Scott Brener
The National Association of Government Labor Officials (NAGLO) during its 2005 summer conference elected Minnesota Department of Labor and Industry Commissioner Scott Brener president.

John Robinson
With members from more than 30 U.S. states, NAGLO focuses on sharing information and developing policy about workplace issues and policy, and serves as a primary contact for the federal government about issues relating to labor policy.

Kim McLaughin
As NAGLO president, Brener will help the organization define its policy agenda and recruit new members. He will serve a one-year term and preside over all association meetings.

Kendel Standlee
The Citizens and Hanover Insurance Companieshave named John Robinson regional president of its emerging Midwest region.

Margaret Farrow
He will manage sales and distribution of the companes' commercial and personal lines operations in Indiana, Ohio and Illinois.
Previously, Robinson was with Liberty Mutual, where most recently he was president and chief executive officer for its Regional Agency Markets Montgomery Insurance Company, in Sandy Spring, Md.
Venture Insurance Programs has appointed Kim McLaughlin as director of human resources.
McLaughlin is the former human resources manager at EB Games/Electronics Boutique in West Chester, Pa., and staff human resources consultant for Allstate Insurance Company in Wayne, Pa.
Cincinnati-based property/casualty insurer Great American Insurance Group has promoted Kendel Standlee to president of its equine mortality division.
Under Standlee's direction, the division experienced one of its strongest growth years in 2004 while posting the best profitability numbers in its history.
Standlee was an underwriter at North America Livestock Inc. when the company was purchased by Great American in 1990. He became the manager of the equine mortality division in 1998.
Wisconsin-based regional property/casualty insurer ACUITY announced Christina Hess recently joined its staff as a commercial field underwriter for the insurer's Michigan region. Hess had worked for 11 years at Hastings Mutual Insurance Co. as a commercial lines supervisor.
ACUITY's board of directors also recently named Margaret Farrow as its newest director. Farrow is the former lieutenant governor of Wisconsin, serving from 2001 through 2003. She owns a private consultancy specializing in workforce and government issues.
American International Group Inc. announced that Michael Roemerwill join the company as director of internal audit and will be appointed a senior vice president. Roemer succeeds Keith Duckett, who has been named AIG vice president of administration.
Roemer was previously with JP Morgan Chase, where he was responsible for overall audit coverage of finance, risk management, commercial banking and the trust, custody and cash management businesses, as well as the overall administration of the general audit department.
Duckett will have responsibility for AIG's Global Security, Global Sourcing and Global Real Estate/Facilities. He joined AIG's internal audit division in 1987 and held various management positions within the division. He was named AIG director of internal audit in 1995.
Aon Corp. announced that Peggy Cullen has joined the company's environmental practice as director of syndication. Cullen will oversee Aon's nationwide team of environmental risk experts in the management and placement of insurance policies. She will also develop business initiatives and provide training and communication for relationship managers and originators across the Aon network.
Before joining Aon, Cullen spent 20 years at American International Group, where she was most recently senior vice president of AIG Environmental, heading up mergers and acquisitions.
Burns & Wilcoxhas appointed Chad Brown as a broker for the company's Kansas City, Mo., branch.
Brown is responsible forthe placement of large, complex property and casualty and environmental risks for the company's network of agents.
His previous experience includes account manager with Partner's Specialty Group in Kansas City, Mo., and an internship with the National Association of Professional Surplus Lines Offices.
Illinois-based Quotesmith.com Inc. named Brian Gibson vice president of sales and Eric Bergquist vice president and chief information officer.
Previously, Gibson led the call center and service teams at San Antonio-based USAA Life Insurance Company. Bergquist was IT director at Aon responsible for coordinating the IT portion of Sarbanes-Oxley compliance and standardizing IT services and business processes.
Zurich Global Energy announced the appointment of Chris Barber as Global Energy onshore property manager for Asia.
Based in Hong Kong, Barber will oversee all Asian energy onshore property business, focusing on Greater China, Japan and on developing other markets in the region.
Barber was formerly a senior underwriting specialist for Zurich's Global Energy unit in London.
Lockton Companies Inc. has appointed Robert Hopson as a vice president, aviation specialist in its commercial insurance group, property/casualty division in its Kansas City corporate office.
Hopson has 15 years of insurance experience, including eight years at a national brokerage company as a vice president, during which time he was the company's aviation practice leader.
Was this article valuable?
Here are more articles you may enjoy.
From This Issue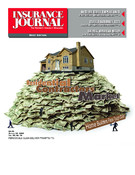 Contractors Issue