David W. Tralka
InsurBanc, the financial services provider to independent insurance agents, has named David W. Tralka as its new president and chief executive officer. Tralka is replacing Michael Herlihy, who served as president since the bank's founding in 2001. Herlihy left InsurBanc to pursue new opportunities, according to officials.

Ron Rice
Tralka has more than 20 years experience in banking and financial services. Most recently, he was with Merrill Lynch where he served as chairman of Merrill Lynch Business Financial Services, serving 150,000 small and mid-sized business clients. In his tenure at Merrill Lynch, Tralka served in senior management positions, including president of Merrill Lynch Bank and Trust and director of credit operations for small business lending.

Mary Pursell
The Insurance Marketing Communications Association announced its 2005-06 slate of directors and officers, with Ron Rice, continuing as IMCA president for his second year. Rice is the national events marketing manager at Russell Investment Group in Tacoma, Wash. He has more than 20 years of experience in marketing, communications, public relations and creative services, mostly within the insurance and surety industries.

Carl Bach
Other IMCA officers include Fran Harding, president of Mainsail Communications, immediate past president; Cora Barran, advertising manager for Farmers Insurance, executive vice president; Rich Look, communications director of Venture Programs, secretary/treasurer, and Reg Pierce, managing partner of InMarket Partners, past president (at large).

Jay Benet
Elected to the board of directors for 2005-2006 are: Darin Barney, MiniCo; Peter Broadbent, Wahlstrom Group; Greg Calestini, American Wholesale; Linda Collins, Arthur J. Gallagher & Co.; Mitch Dunford, Insurance Journal; Gary Kimball, Kimball Communications; Jack Makuch, Allstate Insurance; and Rob Martin, The Co-operators General Insurance Company.
The new officers and executive committee members of the Independent Insurance Agents of Connecticut begin their 2005-2006 term on Sept. 1. Mary Pursell will serve as the IIAC president and is the first woman president in the 107 year history of IIAC. Pursell is the president of Abbate Insurance Associates Inc., a multi-line agency based in New Haven. Prior to her becoming a principal of the agency in 1998, she served as vice president.
The officers and executive committee members that will serve their term with President Pursell are: President-Elect, Jay Byrnes III, Byrnes Agency, Inc., Dayville; Treasurer, Craig Dawley, Pinnacle Group, Inc., East Hartford; Secretary, Bill Pierz, Shoff Darby Companies, Inc., Norwalk; State National Director, Daniel Clock, F. North Clark Insurance Agency, Litchfield; and Chairman of the Board, Spencer Houldin; Ericson Insurance Services, Washington Depot. In addition to the officers of IIAC the following individuals will serve on the IIAC Executive Committee: Kurt Battey, The Scholes Agency, Inc., Essex; Tom Wilson, The Wilson Agency Inc., Shelton; and Michael Gergler, Wilcox & Reynolds Insurance, LLC, Storrs.
ACE USA, the U.S.-based retail operating division of The ACE Group of Companies, named Carl Bach executive vice president of ACE Global Solutions. Based in Philadelphia, Bach will be responsible for the strategic direction for ACE USA's new Global Solutions business operations. Bach joined ACE Europe in April 2001 as senior vice president for UK & Ireland property and casualty operations and became president in July 2003 with responsibility for all UK & Ireland operations
The St. Paul Travelers Companies Inc. of Minnesota promoted chief financial officer Jay Benet to the position of vice chairman and chief financial officer. Benet joined Travelers Property Casualty as the chief financial officer in 2002 and continued serving when the company merged with St. Paul in 2004. Previously, he served 12 years in various executive positions with Citigroup and with Travelers Life & Annuity.
Victor O. Schinnerer & Company in Chevy Chase, Md., announced that John F. Shettle Jr. took over as president on Aug. 15, 2005. Most recently, Shettle served as chief executive officer of Tred Avon Capital Advisors, Inc., a firm providing advisory services to companies and private equity firms focused on the insurance sector. Previously, Shettle held senior management positions at Securitas Capital, Swiss Reinsurance Company and Frederick, Maryland-based AVEMCO Corporation.
Global insurance broker Willis Group Holdings Limited has strengthened its presence in upstate New York with the appointment of Cheryl V. Meyer as vice president. Meyer will oversee the Greater Buffalo area east to Albany from the Buffalo office. Meyer brings more than 25 years of insurance experience. She joins Willis from Marsh where she was a business development executive leading business development efforts for the group insurance practice covering upstate New York. She was previously president of FCS Administrators, a third party claims administrator. Meyer was employed at Merchant Insurance Group for 15 years.
Integro reported that Daniel R. Lavoie has signed on as principal and chief compliance officer. In addition to building Integro's compliance program, he will advise on environmental risk management and environmental insurance brokerage services. Lavoie has more than 18 years of experience in the insurance industry. He most recently served as director of compliance for Marsh USA Inc., and has also held positions with Travelers, Commercial Union, Rosenman & Colin LLP, Navigators Group/Somerset Marine and EIU Group.
New York-based Integro also announced that Gary Marchitello is joining to head its property insurance practice. Previously head of Aon's Global Property Practice, Marchitello is a veteran of 25 years in the insurance business.
Tower Group Inc., a property casualty insurer and services provider headquartered in New York City, has named Thomas Song as managing vice president of corporate development. Song will manage acquisitions and alliances, support corporate finance activities, and to lead key initiatives related to operations and technology. Song has more than 12 years of insurance industry experience. He was vice president of mergers and acquisitions at Cochran, Caronia & Company and an investment banker at Bear, Stearns & Co. Inc.
Was this article valuable?
Here are more articles you may enjoy.
From This Issue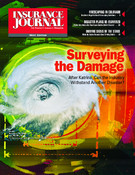 Latin Agents Issue