Robert Testa
Westfield Insurance has named Robert Testa executive, personal lines sales. In this capacity, he oversees employees in five states responsible for new personal lines business.

Bryan Whipple
Testa began his career at Westfield in 1991 and has served as claims representative, claims training instructor, personal lines sales marketing consultant and most recently, director of personal lines sales. He holds an Ohio Property and Casualty license and is actively pursuing his Certified Insurance Counselor designation.

Dane Devlin
Westfield Insurance, based in Westfield Center, Ohio, provides commercial and personal insurance and surety services to customers in 28 states through more than 1,200 independent insurance agencies. The company has more than 2,500 employees, with 1,900 employed in Ohio.

Jay Fishman
Brooke Franchise Corp., a subsidiary of Brooke Corporation, has promoted Bryan Whipple to senior vice president of company marketing with primary responsibility for coordination of Brooke Franchise Corp's property and casualty insurance company relationships.

Helen Kasper
Whipple served as vice president of marketing for Brooke Franchise from August 2003 until his current promotion. Before joining Brooke, he was employed by One Beacon Insurance Co. where he last served as manager of a multi-line property and casualty claims department and as a marketing territory manager, claim supervisor and claim representative with the predecessor companies of One Beacon. He earned a bachelor degree in business from Emporia State University, Emporia, Kan., and holds the Associate in Management designation from the IIACPCU and the Senior Claims Law Associate designation from the American Education Institute.
Brooke also promoted Dane Devlin to senior vice president of operations with overall responsibility for operations of its national, regional and area offices. Devlin has served as director of Brooke Franchise since 2003. He also serves as treasurer of Brooke, an office he assumed in 2004. Devlin earned a bachelor of science degree from Kansas State University, Manhattan, Kan.
Brooke Franchise distributes insurance, financial and funeral services through a network of more than 450 franchise locations.
The Board of Directors of The St. Paul Travelers Companies Inc. unanimously elected President and Chief Executive Officer Jay S. Fishman to the additional post of chairman, effective immediately. Robert I. Lipp, who had held that position since the merger of The St. Paul Companies Inc. and Travelers Property Casualty Corp. in April 2004, will remain a member of the company's Board of Directors.
Before the merger of The St. Paul and Travelers, Fishman was chairman, president, and CEO of The St. Paul. Prior to that, he was chief operation officer of finance and risk for Citigroup. He also served as chairman and chief executive officer of Travelers Insurance Group and as head of Citigroup's global insurance businesses and the consumer business in Japan and Western Europe. Fishman held several key posts at Primerica, Travelers and Citigroup from 1989 to October 2001. In 1993, Fishman was named chief financial officer of Travelers Insurance Group upon its acquisition by Primerica Corp., which later merged with Citicorp to become Citigroup. He became president and CEO of Travelers in 1998 and chairman in 2000.
St. Paul Travelers is a leading provider of property casualty insurance based in St. Paul, Minn.
Polestar Performance Programs Inc., a provider of performance development and consulting services for the insurance industry, appointed Helen K. Kasper to president. Prior to joining Polestar, Kasper served as vice president of regional distribution for Citizens Insurance. She also served as marketing director of Kemper Insurance Chicago where she oversaw agency-wide new business, marketing and client-service initiatives.
Kasper is currently a member of the National Association of Women Business Owners (NAWBO), Sales & Marketing Executives International, the CPCU Society, and the Empowering Women Network (EWN). She serves on the advisory board for The Urban Insurance Partners Institute (UIPI), Polestar Performance Programs Inc., EWN, and J. Krug & Associates.
Polestar Performance Programs Inc. provides performance development and consulting services for the insurance industry.
Aon announces the appointment of Henry Van Dellen as a senior vice president and Minneapolis office Health & Welfare practice leader for Aon Consulting, effective immediately. Van Dellen joins Aon from Willis, where he most recently served as employee benefits practice leader. Van Dellen earned a B.A. in economics from the University of North Dakota and a J.D. from the University of Minnesota Law School. Prior to senior positions in the health care industry, VanDellen served eight years in the Minnesota House of Representatives.
Aon's office in Minneapolis provides specialized services to clients of all major industries. Aon Corporation is a provider of risk management services, insurance and reinsurance brokerage, human capital and management consulting, and specialty insurance underwriting. There are 47,000 employees working in Aon's 500 offices in more than 120 countries.
Zurich Small Business, Schaumburg, Ill., announced that Richard J. Law Jr. has joined its North American operations as president. He will work from the company's Baltimore office. Law replaces Ray Thomas, who is retiring. Law will be responsible for developing and executing small business strategy, including sales, marketing and distribution.
Law most recently served as vice president in the Risk Management Division for Hartford Financial Services Group. He holds a B.A. in economics from Johns Hopkins University in Baltimore.
Zurich Financial Services is an insurance-based financial services provider with a global network that focuses its activities on its key markets in North America and Europe.
Was this article valuable?
Here are more articles you may enjoy.
From This Issue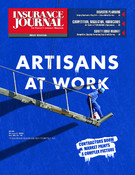 Artisan Contractors Issue