Mike Schellin
The Nevada Independent Insurance Agents has elected a new board of directors and has named a new president. Nevada Insurance Commissioner Alice Molasky-Arman has announced the installation of the following newly-elected officers: President Mike Schellin, Nevada Insurance Agency Co., Carson City; President Elect Jim Ellett, James D. Ellett Insurance Agency, Reno; Vice President Russ Swain, George L. Brown Agency, Las Vegas; Past President Tom Burns, Cragin & Pike Inc., Las Vegas; State National Director Fred Rogne, E.H. Hursh Inc., Fallon; Legislative Chairman Pam Brown, McFadden Insurance Agency, Las Vegas; Directors Richard Jackson, Jackson Insurance Agency, Fernley; Wade Leavitt, Leavitt Insurance Agency, Las Vegas; Mike Menath, Mike Menath Insurance, Incline Village; Paul Richied, Richied and Associates Inc., Reno; and Mark Swarts, Swarts, Manning & Associates, Las Vegas.

Ron Rice
Schellin is president of Nevada Insurance Agency Co., a company that incorporated in the state in 1935. The agency was formed to represent insurance companies to solicit and service all forms of coverage provided to clients.

Mitch Dunford
Schellin's experience includes Life Underwriting Training Council I and II; State Farm Insurance Millionaire Club, 1978, 1979, 1980, 1982 and 1984; past president and director of the Nevada Independent Insurance Agents; author of IIANN 'Companion Economics' for Northern Nevada Agents; and director, Nevada Independent Insurance Agents State Board for three years.

Dan Mahoney
The Insurance Marketing Com-munications Association has announced its 2005-2006 slate of directors and officers, with Ron Rice as president for a second year.

Dyan Bates
Rice is the national events marketing manager at Russell Investment Group in Tacoma, Wash. He has more than 20 years of experience in marketing, communications, public relations and creative services, mostly within the insurance and surety industries. He joined IMCA in 1992 and has been a member of the board since 1999.
Other appointed IMCA officers are Fran Harding, president of Mainsail Communications, immediate past president; Cora Barran, advertising manager for Farmers Insurance, executive vice president; Rich Look, communications director of Venture Programs, secretary/treasurer; Reg Pierce, managing partner of InMarket Partners, past president (at large).
Elected to the board of directors for 2005-2006 are Darin Barney, MiniCo; Peter Broadbent, Wahlstrom Group; Greg Calestini, American Wholesale; Linda Collins, Arthur J. Gallagher and Co.; Mitch Dunford, Insurance Journal; Gary Kimball, Kimball Communications; Jack Makuch, Allstate Insurance; and Rob Martin, The Co-operators General Insurance Co.
Dan Mahoney has joined Professional Underwriters of Exton, Pa., as vice president for risk control where he will head the risk control department. For 25 years, Mahoney has provided health, safety and industrial hygiene services to a variety of public and private clients. His background includes working for insurance carriers, a managing general agency and an environmental engineering consulting firm. He is a certified industrial hygienist and certified safety professional.
McFall General Agency Inc., Pacific Northwest General Agency has announced that Dyan Bates has been promoted to assistant vice president, manager of the Commercial Transportation and Garage Department. McFall General's Transportation and Garage Department underwrites commercial transportation risk for local, intermediate and long-haul on a binding authority basis for risk garaged in Oregon, as well as has six binding authority contracts for garage service and dealer risk located in Oregon, Washington and Idaho. As assistant vice president and manager of the department, Bates also will become a member of the company's management.
Torrance, Calif.-based Keenan has announced that John Crooms has been named vice president of sales for the Northern California Group Schools Benefit Division, a newly-created position. Crooms comes to Keenan with more than 30 years of employee benefits expertise that includes an understanding of the California benefits marketplace, with particular emphasis on the public sector. Most recently, he served as vice president of sales at Delta Dental from 1998 through June 2005. In that position, Crooms was responsible for all aspects of Delta's sales management, distribution and account management activities. From 1973 through December 1997, Crooms held leadership roles with the Prudential Insurance Co., including vice president of sales, located in San Francisco.
Burns Insurance Agency Inc. has named Nadyne Huber branch manager for the new Las Vegas Branch of Burns Insurance Agency. Huber has been in the insurance business for more than 20 years and is active in local insurance associations. The Las Vegas branch office reviews and proposes insurance for all lines of insurance, including auto, home, life, disability and all business insurance coverages. Burns Insurance Agency has 10 offices in Wyoming and recently opened the new branch in Las Vegas.
Seattle-based Kibble & Prentice has announced that Bill Whitaker has joined its Private Client Group. Whitaker has more than 32 years of experience providing estate planning and wealth management services for individuals and families throughout the Northwest.
Burns & Wilcox Ltd. has named Lisa Sanderson underwriter in the company's Reno, Nev., office. As a Burns & Wilcox underwriter, Sanderson will be responsible for new and renewal production and relationship development with commercial lines agents and brokers. Sanderson joins Burns & Wilcox with more than 16 years of previous underwriting experience at Scottsdale Insurance Co. in Scottsdale, Ariz., where she specialized in public entities and special district underwriting.
Was this article valuable?
Here are more articles you may enjoy.
From This Issue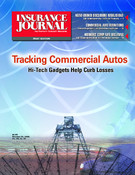 Commercial Auto