Ken North
Frost Insurance reported that Ken North joined its Fort Worth, Texas, office as president of the company's Dallas region. North has 30 years of experience in the insurance industry.

Ann Wilson
Frost Insurance is a subsidiary of Frost Bank and is one of the 20 largest bank-owned insurance agencies in the U.S., the company said. It specializes in property/casualty insurance, group employee benefits, estate planning and business succession services, and personal insurance products.

Edward Troy
Ann Wilson was named operations manager at Plano-based J.B. Lloyd & Associates LLC, a managing general agency providing specialty insurance for the financial and mortgage industries.

John Keogh
Wilson has over 20 years of experience in the insurance industry. She was most recently with Rekerdres & Associates, fulfilling the operations and accounting functions.

Wayne Bates
Edward G. Troy has been appointed president and chief executive officer of the GAB Robins Group of Companies. Troy, who has more than 35 years of insurance industry experience, most recently served as president of ESIS, a risk management services company that is part of ACE USA, headquartered in Philadelphia.
Prior to ESIS, Troy served as founder and president of Ed Troy Associates, a risk management company. Troy held a number of senior management positions with Liberty Mutual, AIG and CNA, and he began his a career as a Casualty Underwriter at The Hartford.
The Board of Directors of American International Group Inc. elected John W. Keogh senior vice president. He will continue to serve as president and chief executive officer of AIG member company National Union Fire Insurance Co. of Pittsburgh, Pa., a position he has held since 2000.
Previously, he was executive vice president of AIG's Domestic Brokerage Group, responsible for managing field operations and segment marketing. Keogh also served as president and chief operating officer of Lexington Insurance Co., and as president of the DBG commercial accounts division.
AIG's Board also elected Michael H. Sutton as director. Sutton will serve on the audit committee of the board. Sutter was chief accountant of the United States Securities and Exchange Commission from 1995 until his retirement in 1998.
Burns & Wilcox, a national specialty insurance managing general agency, promoted Wayne Bates to director of the company's Special Risk Division, International, and elevated him to associate vice president.
Bates previously served as director of Burns & Wilcox's London Consortium Department and deputy director of SRD, International, responsible for underwriting and marketing of the key London contracts on which Burns & Wilcox assumes risks via its affiliates.
Bates also manages reinsurance activities involving current contracts, as well as the development of new contracts and programs in the London market. In addition, he oversees the overall operations of Illinois R.B. Jones, a wholly owned subsidiary that specializes in providing specialty lines coverage to agents and wholesalers nationwide.
San Antonio-based Argonaut Group Inc., a national underwriter of specialty insurance products in niche areas of the property and casualty market, announced that its Board of Directors elevated Craig S. Comeaux to the position of secretary.
Comeaux succeeds senior vice president and general counsel Byron L. LeFlore, Jr.
In addition to his new duties, Comeaux will continue to serve as the company's vice president and deputy general counsel reporting to LeFlore.
Prior to joining Argonaut, Comeaux served as senior vice president, general counsel and secretary for Seitel Inc. in Houston. Comeaux was in private practice for nine years with Akin, Gump, Strauss, Hauer and Feld LLP in Austin, where he handled complex business litigation and corporate transactional matters for a variety of public and private concerns.
Eric Schake joined Willis Group Holdings Ltd. as executive vice president for real estate practice. He will lead client development efforts for Willis' Real Estate and Hospitality Practice.
He is based in Dallas, Texas, and has offices in both Dallas and Nashville, Tenn.
Formerly at Marsh, Schake joins Willis with over 17 years of industry experience. While at Marsh, he was a managing director and head of U.S. industry practices, as well as leader of the North American real estate practice.
Schake specializes in risk financing and transfer programs for large domestic and multinational clients.
Superior Access Insurance Services Inc. reported that Gail Bowlin has joined the firm as director of the south central region, which includes Texas, Louisiana and Oklahoma. Bowlin will be responsible for regional development, acquiring additional carrier appointments and building a larger independent agency membership base.
A licensed property and casualty agent and life and health agent, Bowlin began her insurance career in 1975 with Texas National Insurance Agency. At American Standard Underwriters, she was manager of underwriting and human resources. For the next 18 years, Bowlin was agency manager and program division manager at Arthur J. Gallagher Company (and Henley, Williams and Associates, an AJGCO merger acquisition).
While at Henley, Williams and Associates, she developed an insurance product for foreclosed properties that grew to over $20 million in premium a year and, thereby, attracted the attention of AJGCO, which resulted in the merger. Most recently, she opened the RPS of Texas office, the wholesale division of AJGCO.
To submit information to People & Places, e-mail ijtexas@insurancejournal.com.
Was this article valuable?
Here are more articles you may enjoy.
From This Issue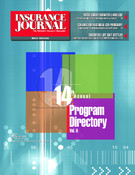 2005 Program Directory, Vol. II