Don Bailey has been appointed chief operating officer of Willis Group Holdings North American business unit. Bailey will work with Mario Vitale, chief executive officer of Willis North America, in managing the organization's day-to-day operational and sales activities while also developing and implementing the unit's long term strategy.
Tom Coughlin, chief operating officer of Willis Risk Solutions North America since 2000, will succeed Bailey as chief executive officer of the practice.
Bailey joined Willis in March 2003 to lead the North American Executive Risks Practice. In March 2004, Willis appointed Bailey CEO of Willis Risk Solutions North America, the company's large account practice. Bailey joined Willis from Allianz Insurance Co.
Swett & Crawford, based in Woodland Hills, Calif., announced that Neal Abernathy, its president and chief operating officer, has been named chief executive officer. Abernathy has been president and chief operating officer since August 2005. He will also retain the president's title.
In addition, the firm will move its corporate offices from Woodland Hills, Calif. to Atlanta to streamline and consolidate administrative and support functions under Abernathy's leadership.
Swett & Crawford also announced new additions to its staff in offices nationwide, including.
Carter Thompson, most recently senior vice president, group leader Professional and Management Liability Division at Stewart Smith Group in New York, has jointed the Swett & Crawford Irvine office as professional lines broker.
Brian Johnson brings his underwriting skills to the Boston office of Swett & Crawford as an underwriting specialist. He had been underwriting operations manager and senior production underwriter for four programs at Willis of New Hampshire. He also worked at Liberty Mutual Insurance Group.
Harold Field comes to Swett & Crawford in New York as a professional lines broker from a position as a vice president/wholesale broker at Westrope Associates in Short Hills, N.J. Prior to this brokering career he served as a regional underwriting manager for Zurich NA/Specialties where he managed an underwriting production team that was focused on large public company D&O, EPL, fiduciary liability, crime and kidnap & ransom.
Margaret Jacobs moves to the Swett & Crawford Chicago office as director, Healthcare Practice Group, from Aon Risk Services where she was managing director of the National Healthcare Practice overseeing, a $2 billion health care book.
Safety Insurance has promoted Bob Kostro to director of claims operations. In his new position, he will oversee the activities of the subrogation collection, adverse subrogation, claims records and purchasing and facilities units. Kostro joined Safety in 1987 as a claims adjuster trainee. He worked in several claims positions before being promoted in 1992 to claims manager of the personal injury protection unit and to territorial claim manager in 1995.
PMA Insurance Group in Blue Bell, Pa. has appointed Andrew J. McGill as vice president of human resources. McGill will lead PMA's human resource initiatives and will report directly to Vincent T. Donnelly, president and CEO. Prior to joining PMA, McGill was with the Kennedy Health System in Cherry Hill, N.J. He has 15 years of experience in human resources.
Dennis Alkson, vice president and manager of DVUA Pittsburgh, Inc.has been named "Insurance Person of the Year" by The Insurance Club of Pittsburgh. The award was presented by Kelly Bendick, president of The Insurance Club of Pittsburgh, during the luncheon at the 80th Pittsburgh I Day. Alkson joined DVUA 23 years ago after working on the carrier and retail sides of insurance. He is a graduate of Gannon College in Erie, Pa. DVUA is a member company of United America Indemnity, Ltd.
The Independent Insurance Agents & Brokers of America (the Big "I") has honored a longtime Massachusetts agent leader for his legislative accomplishments. Belmont, Mass. agent William Hofmann III, CPCU, CLU, AAI, CIC, LIA, was presented the Sidney O. Smith Award for his tireless work in promoting the legislative goals of the Big "I" and its political arm, InsurPac. The Big "I" group presented the award during its recent National Legislative Conference and Convention.
Hofmann earned the Sidney O. Smith Award honor for his tenure as chairman of the InsurPac Board of Trustees, and a past president of the Big "I", a national board member, and during his long service in many other capacities at both the state and national levels.
Under his leadership, InsurPac reached the $1 million mark in an election cycle for the first time in its 30-year history. Hofmann has worked hard to educate independent insurance agents and brokers as to the importance of PACs in the political process, according to the group.
Mercator Risk Services, a New York-based independent wholesale insurance broker, has opened a Management/Professional Liability practice and appointed Peter McKeegan executive vice president. McKeegan will be responsible for building all of Mercator's Management/Professional Liability business, including directors and officers, errors and omissions, fiduciary liability, employment practices liability, bonds, and reps and warranties for mergers and acquisitions.
McKeegan was previously one of the original employees of Arch Insurance Group, running its Management/Professional Liability units in the U.S. and U.K. Before that, McKeegan was a founding partner at Axcelera Specialty Risk as well as a senior executive at American International Group.
Main Street America Group, of Jacksonville, Fla. promoted Mike Lancashire to vice president of claims. He replaces Steve Canty, who recently became vice president of market research. Lancashire will report to Tom Van Berkel, president and CEO, and remain in Jacksonville. Lancashire joined Main Street America in 2003, as its technical claims director. In August 2005, he was named its director of claims product.
From This Issue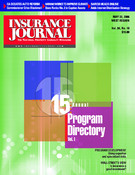 2006 Program Directory, Vol. I