The Allstate Corporation announced a leadership transition, which will occur over the next 18 months. Edward M. Liddy, currently chairman and chief executive officer, plans to step down as CEO at the end of 2006. Thomas J. Wilson, currently president and chief operating officer, who has been elected the Allstate board of directors, will succeed him at that time as CEO. Wilson will retain the role and title of president. The chief operating officer role will not be filled.
Wilson joined Allstate in 1995 as vice president of finance and was elected chief financial officer later that year. He was appointed president of Allstate Protection, the company's largest business unit in 2002. He assumed his current role of president and COO in May 2005.
Liddy will remain chairman until his retirement from the company in the spring of 2008. Liddy, who will be 62 at the time of his retirement has served as chairman and chief executive officer since January 1999. He previously served as president and chief operating officer from 1994 to 1998.
Aon Corp. appointed Barbara Spain as senior vice president and relationship manager and Matt Reese as senior vice president and originator for Aon Risk Services. Both will drive the company's logistics industry initiatives, focusing on new business development and expansion of current business relationships with logistics companies and multinational firms with internal logistics divisions. Spain and Reese are based in Aon's international headquarters in Chicago. Spain, a recognized logistics insurance industry veteran, joins Aon after a 35-year career with both insurance carriers and brokers. Reese joins Aon after devoting his 15-year career to creating risk solutions for the logistics industry.
Western National Insurance Group, based in Edina, Minn., announced that its President and CEO Stuart C. Henderson has been re-elected for a three-year term as a director for the Insurance Federation of Minnesota. He will also continue to serve on the Executive Committee of the Board. WNIG's Vice President and General Counsel Joseph Pingatore will also serve the IFM community as an ex-officio member of the Executive Committee, and in the role of secretary/treasurer.
Western National Mutual Insurance Co. writes personal and commercial lines in Minnesota, Wisconsin, South Dakota, North Dakota and Iowa. All Western National Insurance Group companies distribute their insurance products solely via the independent agency system. The Insurance Federation of Minnesota is a non-profit state insurance trade association representing approximately 75 insurance companies and several other related organizations.
Chicago, Ill.-based Geo. F. Brown & Sons Inc. hired Joe Lourido as the company's new National Accounts Risk Placement specialist. Lourido will report to Geo. F. Brown & Sons Inc. President Mark J. Strong and his duties will include solidifying strong market and retail community partnerships in support of the property/casualty open brokerage initiative. Lourido began his career with Aetna Life and Casualty in Hartford, Conn.
Lourido has 19 years of industry experience across various disciplines involving national accounts casualty underwriting, reinsurance and wholesale brokerage with nationally recognized companies such as AIG, Royal Insurance Co and Zurich. Geo. F. Brown & Sons Inc. is a specialty lines insurance wholesaler, managing general agent and program administrator.
Markel American Insurance Company appointed Nancy Kane to the newly-created position of business development director. Kevin Beringer was also named a new marketing associate.
Kane most recently served as senior marketing manager for Brady Corp., where she was responsible for industry and product marketing. She has also held positions as vice president of marketing for TCF National Bank Wisconsin, director of marketing for Mueller & Sebena, S.C.
Behringer comes from Environmental Management Consulting in Lake Mills, Wis., where he headed the marketing department. Before working for EMC, he worked at Minacs, also located in Wisconsin, working on direct mailings and account management. He will manage MAIC's public Web site and head up the public relations effort.
The Professional Insurance Agents Association of Ohio Inc. presented awards to several of its members.
Terry A. Kelso, of Westerville, received the Excellence in Leadership award for his volunteerism for the association. Kelso is president of Associated Insurance Agencies Inc. in Westerville.
Mark T. Reilly, of Elmore, was named Educator of the Year. Reilly has been an instructor and active member of PIA's education committee since 1990. Reilly is president of Diversified Insurance Service LLC in Elmore.
Daniel T. Rabold, of Worthington, received the Chairman of the Year award. Rabold is serving his second year as chair of the association's company satisfaction survey task force, and is a member of the company relations committee. Rabold is president of Thompson-Cunningham Agency Inc. in Worthington.
James J. Kennedy, of Marion, was named Industry Person of the Year. Kennedy has worked in the insurance industry for 33 years. Kennedy is president and chief executive officer of Ohio Mutual Insurance Group in Bucyrus, Ohio.
Lisa M. Gabel, of Twinsburg, was named Outstanding Customer Service Representative of the Year for 2006 by The National Alliance for Insurance Education and Research.
To qualify for this award, insurance CSRs wrote essays on the topic, "Three Great Ways for a CSR to Build Positive Relationships with Company Underwriters." Gabel's essay earned her the statewide honor and will qualify her to compete with winners from other states for the national award.
From This Issue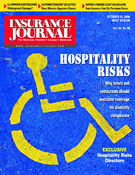 Hospitality Risks: Why hotels and restaurants should welcome coverage