Missouri Governor Matt Blunt recently announced that Insurance Director Dale Finke will retire in 2007. Finke served as director for the past two years while the department gained responsibility for oversight of banks, credit unions and other financial institutions, as well as professional registration. Blunt in a news release praised Finke's leadership "during a time of transition at the department." Finke entered the insurance business when he was 18, joining his father, grandfather and uncle in 1957 at the family business begun by his grandfather in 1932. The company split in 1971, and Finke eventually became the owner of ISU Corporate Insurance Management. He was named Insurance Man of the Year in 1977 by the Missouri Association of Insurance Agents.
Blunt tapped Finke's deputy director, Doug Ommen, as the next director. Ommen, who also is the Insurance Department's general counsel, is from Jefferson City and was the commissioner of securities while Blunt was secretary of state from 2001-2005. Blunt cited Ommen's commitment to improving customer service and experience as commissioner of securities for the appointment.
State Auto Insurance Cos. appointed Charles E. McShane Jr. as eastern zone vice president of State Auto Middle Market Insurance (SAMMI). McShane will head the eastern zone office, based in Baltimore, Md. McShane's 30-year insurance career includes a number of executive and senior management roles with Aetna Life and Casualty Company, Zurich North America, USF&G and The St. Paul Cos. He most recently served as enterprise relationship manager and vice president of distribution management with Zurich Financial Services.
Wisconsin Gov. Jim Doyle appointed Sean Dilweg as insurance commissioner as of Jan. 1. Dilweg replaces Jorge Gomez, who announced his resignation last month. Dilweg is currently the executive assistant at the Department of Administration. He will be replaced by Patrick Henderson, the governor's legislative director.
The Park Group (AVRECO), a wholesale insurance brokerage in Chicago, hired Sarah Dore for the position of senior vice president within the health care department.
Prior to joining AVRECO, Dore worked as an independent insurance consultant, specializing in assisting insurance companies, brokers, agents and health care providers with the strategic planning, underwriting, marketing, and product development initiatives for their medical professional liability insurance business. She also served as the rate survey editor for Medical Liability Monitor, an independent newsletter focusing on medical malpractice insurance trends and issues. Dore is a frequent speaker at insurance industry and healthcare industry events. Dore began her career in 1971 with CNA Insurance in the claims department. She joined Prudential in 1974 as a litigation claim consultant.
Willis Group Holdings is making a marketing push in the Cincinnati area through the addition of Bruce Brumbaugh as vice president. Brumbaugh will focus on risk management and large property and casualty accounts in the upper-middle market.
Brumbaugh brings 20 years of experience in the risk management arena and will be focus on growing the broker's market share and expanding Willis' Client Advocacy profile throughout Ohio and Kentucky.
Tim Wagner, director of the Nebraska Department of Insurance, announced the promotion of James Nixon to chief financial examiner. Nixon has served as the department's acting chief financial examiner for the past six months following the retirement of David Krumm.
As chief financial examiner, Nixon will be responsible for the primary financial oversight of approximately $300 billion in assets of Nebraska's domestic insurance industry. Nixon has been with the examination division of the Department of Insurance since 1975, and has held the position of deputy chief examiner since 2002. He has also been and will continue to be active in various working groups of the National Association of Insurance Commissioners.
St. Louis, Mo.-based Gateway Underwriters Agency announced that Mary Beth Fox has joined the Agency as president. Fox has 20 years of experience in the insurance industry, in both retail and wholesale operations. She also has six years prior experience with Gateway Underwriters Agency, a managing general agency.
Gateway Underwriters Agency is a managing general agency owned by Berkshire Hathaway Homestate Companies.
Joanne Kearbey has been promoted to manager in the insurance and reinsurance services practice at Brown Smith Wallace. Kearbey's new role as manager recognizes her more than seven years expertise in the insurance and tax industry.
Since joining Brown Smith Wallace in 2005, Kearbey has been responsible for reviewing federal income tax provisions for insurance companies, including deferred tax calculations for both statutory accounting and GAAP purposes. Kearbey is involved in the preparation and review of federal and state income tax returns and assists with research as well as federal/state income tax planning.
SFM President and CEO Pat Johnson plans to retire in 2007, the company announced. Johnson, assumed the role of president and CEO in 1992. SFM is the largest writer of workers' compensation in Minnesota and a growing leader regionally.
Johnson is planning to retire in late spring. SFM Board Chair Truman Jeffers said a board search committee will engage an independent firm to conduct a nationwide search, including also consideration of candidates within SFM's leadership team.
Johnson said he anticipates staying active in industry affairs, but looks forward to more time to devote to other interests.
SFM, formerly known as State Fund Mutual Companies, is a Minn.-based, customer-owned mutual insurer providing Minnesota and Wisconsin employers with workers' compensation coverage.
From This Issue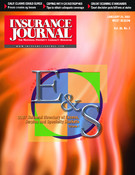 2007 Excess, Surplus and Specialty Markets Directory, Vol. I