The National Association of Insurance Commissioners named its 2007 committee chairs and vice chairs. The new committee assignments are for one year:
Life Insurance and Annuities Committee: chair, Julie McPeak, executive director, Kentucky Office of Insurance, and vice chair, Tim Wagner, director, Nebraska Department of Insurance;
Health Insurance and Managed Care Committee: chair, Joel Ario, administrator, Oregon Insurance Division, and vice chair, Kim Holland, commissioner, Oklahoma Insurance Department;
Property and Casualty Insurance Committee: chair, Kevin McCarty, commissioner, Florida Office of Insurance Regulation, and vice chair, Michael McRaith, director, Illinois Division of Insurance;
Market Regulation and Consumer Affairs Committee: chair, Mike Kreidler, commissioner, Washington State Office of the Insurance Commissioner, and vice chair, Julie Benafield Bowman, commissioner, Arkansas Insurance Department;
Financial Condition Committee: chair: Alfred Gross, commissioner, Virginia Bureau of Insurance, and vice chair, Susan Voss, commissioner, Iowa Division of Insurance;
Financial Regulation Standards and Accreditation Committee: chair, Joseph Torti III, superintendent, Rhode Island Insurance Division, and vice chair, Kent Michie, commissioner, Utah Department of Insurance;
International Insurance Relations Committee: chair, Diane Koken, commissioner, Pennsylvania Insurance Department, and vice chair, Dorelisse Juarbe Jiminez, commissioner, Puerto Rico Department of Insurance; and,
Information Resources Management Committee: chair: Jim Long, commissioner, North Carolina Department of Insurance, and vice chair, Steven Orr, commissioner, Maryland Insurance Administration.
William J. Mullaney has been named president of MetLife's Institutional Business segment. Mullaney succeeds Leland C. Launer, Jr., who has decided to leave MetLife to pursue other opportunities. Mullaney most recently served as president of MetLife Auto & Home, the company's $3 billion personal lines property and casualty subsidiary. Mullaney has been with MetLife for 24 years. Institutional Business, with 2005 revenues of $19 billion, provides coverage to group customers, including 88 of the top 100 Fortune 500 companies.
William D. Moore, senior vice president, Eastern Zone, Individual Business, will succeed Mullaney as head of MetLife Auto & Home. In addition to heading up the Eastern Zone, Moore has more than 24 years of experience in the Auto & Home organization, including most recently being responsible for its property and casualty specialist organization, which includes 2,000 producers and administrative staff. Moore joined MetLife Auto & Home in 1977 and has held a variety of senior leadership positions in sales and marketing.
Mullaney will report to C. Robert Henrikson, MetLife chairman of the board, president and chief executive officer and become a member of MetLife's executive group. Moore will report to Lisa M. Weber, president of Individual Business.
Insurance broker Beecher Carlson has expanded its Executive Liability team with the addition of Frederick A. Ryder as managing director. Ryder will focus on business and client development for Executive Liability Products by leveraging his 36 years in the business.
Prior to joining Beecher Carlson, Ryder was the former vice chairman and chief operating officer of Marsh Inc.'s FINPRO U.S. practice. In that capacity, he also served as a senior advisor to many FINPRO clients, and most recently concentrated on settling complex D&O claims and litigation.
The board of directors of insurance agency Brown & Brown Inc. has elected Kenneth D. Kirk as regional president, responsible for the company's retail and wholesale brokerage operations in the Western United States.
Also, Kenneth Masters was elected a regional executive vice president, and will assume responsibility for certain Program Division operations in California, Michigan, Wisconsin and Oklahoma.
Kirk has been responsible for operations in the Western states since 2002. He also serves in an executive officer capacity for several company subsidiaries.
Masters joined the company in 2002 when the current CalSurance subsidiary was acquired. He was president of CalSurance at that time and has continued to serve in that capacity. In addition, he provides leadership to the Programs Division and has led the acquisition efforts of several successful program business units.
Willis Group Holdings Ltd. announced that after a 40 year career in the insurance broking business, 21 of which have benwith Willis, Richard Bucknall, vice chairman of the Group and chairman and CEO of Willis Limited, the company's UK business unit, is retiring. He will do so effective March 31, 2007 and will continue in an advisory role through the end of the year. Bucknall's career with Willis began in 1986 and over the course of his tenure, he has served the company in several capacities.
David Margrett, maintaining his role as chief executive officer of Willis' Global Specialities unit consisting of such areas as aerospace, construction, energy and marine, will assume the roles of chairman and CEO of Willis Limited effective March 31, 2007.
The Bermuda-based White Mountains Insurance Group has elected Ray Barrette as chairman and chief executive officer. He succeeds Jack Byrne, who has retired from the company, as chairman, and Steve Fass as CEO. Barrette is coming back to his former position as CEO, following his retirement as an officer and director in October 2005. He returned as a director of the company in August 2006. Barrette originally joined the company in 1973.
Willis Group Holdings, Ltd. named J. Norman Monfort as vice president in its LawyerGuard Program to expand the company's programs for the legal sector. Monfort and the LawyerGuard team are based in Tampa, Fla.
Monfort brings to LawyerGuard 30 years of experience managing various professional liability programs. Most recently he managed a Florida-based lawyer's professional liability wholesale operation for a national broker. Prior to that, he was program manager for a $100 million dental professional liability program marketed nationwide.
From This Issue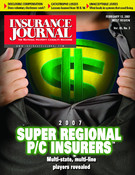 Salute to "Super Regionals"; High Risk Property & Catastrophe Coverages; Yachts and Boats; The Commissioners, Part 1