William J. Mullaney was named president of MetLife's Institutional Business segment. He succeeds Leland C. Launer Jr., who has decided to pursue other opportunities. Mullaney most recently served as president of MetLife Auto & Home, and has been with the company for more than 24 years. He also will join MetLife's executive group.
William D. Moore, senior vice president, Eastern Zone, Individual Business, will succeed Mullaney as head of MetLife Auto & Home. He has more than 24 years of experience in the Auto & Home organization, most recently being responsible for its property/casualty specialist organization. Moore joined MetLife Auto & Home in 1977 and has held senior leadership positions in sales and marketing.
Beecher Carlson expanded its New York executive liability team, adding Frederick A. Ryder as managing director. He will focus on business and client development for executive liability products and has 36 years in the business. Before joining Beecher Carlson, he was vice chairman and chief operating officer of Marsh Inc.'s FINPRO U.S. practice.
The board of directors of Brown & Brown Inc. elected Kenneth D. Kirk regional president, responsible for retail and wholesale brokerage operations in the West. Kenneth Masters was elected a regional executive vice president, and will be responsible for certain Program Division operations in California, Michigan, Wisconsin and Oklahoma.
Kirk has been responsible for operations in the Western states since 2002. He also serves in an executive officer capacity for several company subsidiaries.
Masters joined the company in 2002, when the current CalSurance subsidiary was acquired. He was president of CalSurance and has continued to serve in that capacity. In addition, he provides leadership to the Program Division.
Willis Group Holdings Ltd. announced that after a 40 year career in the insurance broking business Richard Bucknall, vice chairman of the group and chairman and CEO of Willis Ltd., the company's U.K. business unit, is retiring, effective March 31, 2007. He will continue in an advisory role through the end of the year.
David Margrett will become chairman and CEO of Willis Ltd., as well as will maintain his role as CEO of Willis' Global Specialities.
Bermuda-based White Mountains Insurance Group elected Ray Barrette chairman and CEO. He succeeds Jack Byrne, who has retired from the company, as chairman, and Steve Fass as CEO. Barrette is coming back to his former position as CEO, following his retirement as an officer and director in Oct. 2005. He returned as a director in Aug. 2006. Barrette originally joined the company in 1973.
Aon realigned its London and Bermuda offices that handle major corporate global risks. The broker is centralizing those operations in Bermuda, and is moving high level executives from the London office to do so. Aon is creating a "single unified service platform," Aon Global, which, it said, will incorporate the company's former Global Large Corporate business unit, Captives Services Group, International Risk Management Group, Risk Consulting and Risk Engineering business units, among others.
Dennis Mahoney, who headed Aon's London office, will become chairman for Aon Global and is relocating to Bermuda. Steve McGill will be the unit's CEO and will continue as CEO for Aon Risk Services Americas, based in Chicago.
Peter Harmer, who headed Aon Holdings Australia as CEO for the past seven years, will succeed Mahoney as chief executive of Aon Ltd. and country manager for Aon UK.
Jonathan Palmer-Brown, chairman of Specialty Global Industries, has been appointed deputy chairman of Aon Ltd.
The new appointments are subject to approval by the U.K. Financial Services Authority.
Marsh named Chris Baker client director within its Trade Credit Practice, and Doug Smith business risk consultant based in the Edinburgh, Scotland office. Baker will be responsible for generating new business opportunities within the U.K. and pan-European deals. Smith will be responsible for developing risk consultancy services to existing and potential clients across Scotland.
Willis Group Holdings is strengthening its presence in Montreal, Quebec, Canada with several appointments. Luc Brunet and Jacques Simard were named senior vice president and account executive in Montreal, responsible for bolstering client development and client service capabilities.
Mario Campeau, account executive, Construction Division and Special Programs, and Suzanne Brisebois, vice president, Executive Risk Practice, recently joined the team, offering specialty insurance expertise.
Mari M. Rezinas was named president of Patrion Insurance, a subsidiary of Riverside, Calif.-based Altura Credit Union. She joined the company last year as vice president of commercial lines. She has more than 35 years of experience.
Trinity E&S Insurance Services Inc., Bermuda Dunes, Calif., promoted Mark Gassen to director of marketing and information services. He will be responsible for coordinating and managing the company's marketing plan, and for providing requested report tools to senior management. Previously, Gassen was an underwriter with the company.
Guy Carpenter & Co. LLC, part of the Marsh & McLennan Companies, appointed Garick Zillgitt senior vice president and western region business development leader. Zillgitt, based in San Francisco, will focus on continued growth of the firm's business throughout the region.
James F. Carr was named senior vice president of operations for AirSure Ltd., a division of the Van Guilder Insurance Corp. Carr has more than 17 years of claims, underwriting, regulatory, marketing and operations management experience within the property and casualty insurance industry.
Lisa Ingoglia was promoted to manager of California State Fund's Claims Management Services. She brings 18 years of State Fund experience to her new post.
From This Issue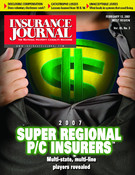 Salute to "Super Regionals"; High Risk Property & Catastrophe Coverages; Yachts and Boats; The Commissioners, Part 1