Markel Insurance Co. named Thomas K. "Smitty" Smith as vice president of marketing. Smith joins Markel after three years as senior vice president and managing director of the Richmond branch of Riggs, Counselman, Michaels & Downes, which he established. Before RCM&D, Smith spent 16 years in a variety of marketing, business development, and senior management positions with The Reciprocal Group in Richmond.
National wholesaler Burns & Wilcox announced the addition of Lisa Crawley, who joins the company's Baltimore office as office manager. The announcement was made by Richard Trippe of the Burns & Wilcox Baltimore office.
Crawley specializes in errors & omissions, high-value homeowners and vacant buildings coverages. Previously, Crawley served as a senior commercial lines underwriter for Penn National Insurance in Hunt Valley, Md.
The Atlantic Companies' board elected Daniel H. Olmsted, its president and chief operating officer, to the additional post of chief executive officer.
Klaus Dorfi, who has served as CEO since 1997, will continue in his role as chairman until he retires at the end of this year.
Olmsted was most recently promoted to chief operating officer in April 2006 and president in June 2004, when he was also made a member of the board. Olmsted joined The Atlantic Companies in 1984 and performed in a variety of roles in its commercial and personal insurance business divisions and as corporate counsel.
Gov. Martin O'Malley nominated former Maryland Insurance Commissioner Steven Larsen to head the Public Service Commission, tapping a man with a reputation for standing up for consumers' interests but with no direct experience in regulating utilities.
Larsen was nominated by O'Malley to replace former Chairman Kenneth Schisler, who resigned last month under pressure from the governor and other Democrats, who were angry about a 72 percent electricity rate hike that was approved last year.
William Mesure has joined Professional Underwriters in Exton, Pa. as senior risk control consultant. Mesure has served the insurance industry for 11 years. His background includes working for local hospitals, major insurance carriers, and an environmental, health and safety consulting firm.
NIP Programs in Woodbridge, N.J., reports that Kristine Lucke has joined the company as programs claims director. Lucke will be responsible for the program division's claims strategy and will oversee the management of high exposure and high value claims.
Prior to joining NIP, Lucke served as senior risk analyst for Bristol-Myers Squibb where she administered the primary casualty insurance program. She has 18 years of experience, including serving as risk manager for the Woolworth Corp. and various claims positions with Travelers Insurance Co.
Carl Leslie Dalmata has been appointed regional marketing manager for S. H Smith & Co., Inc., a national excess and surplus lines broker based in Conn. Located in the firm's Utica, New York, office, Dalmata will be responsible for marketing and sales activities within the eastern New York and Vermont territories, according to Bruce Anderson, vice president and chief marketing officer. Dalmata began his career with Sentry Insurance and Equities in Utica, and was most recently a marketing manager with the Berkley Companies.
Ames & Gough, an insurance broker specializing in serving architects, engineers and law firms, has hired Robert G. Hughes as a vice president with responsibility for business in Pennsylvania, New Jersey and Delaware. Hughes will work from West Chester, Pa. as an extension of Ames & Gough's McLean, Va. office.
Hughes' background includes a degree in civil engineering and experience as a lawyer and claims attorney who has served architects and engineers. Hughes comes to Ames & Gough from Thomas J. Sharp & Associates insurance agency. Prior to that, he spent a number of years with XL Insurance as a claims manager and senior counsel. Ames & Gough has additional offices in Atlanta and Boston.
Daniel J. Cullen has joined NSM Insurance Group in its Dayton, Ohio office as national director of Growth and Product Development.
Cullen has 20 years of insurance experience, having most recently served as senior vice president and senior client advisor of the Marsh Public Entity Practice. Prior to joining Marsh, he was a public entity large account specialist for Coregis Insurance Co., a GE Capital company. His public entity experience also includes holding the position of risk manager for the City of Ann Arbor, Mich. NSM also has an office in Conshohocken, Pa.
Specialty insurance broker Colemont-Hartford has promoted Woody Baird to the position of executive vice president. Baird is a 26 year insurance industry veteran and has held senior positions in agencies, wholesale operations and insurance companies in his career. Prior to joining Colemont, he was with Arthur J. Gallagher & Company's Hartford, Conn. office.
Guy Carpenter & Co., LLC, has named Steven Hanke as senior vice president- treaty for the Eastern Region of North America. Hanke will be responsible for new business development and client services. He also will play a significant role in building on the firm's Professional Liability Specialty Practice services, including errors & omissions, directors & officers and employment practices liability. Hanke will report to David Schoenrock, managing director, and will be based in New York.
Previously, Hanke was senior vice president at Aon Re, Inc., where he focused on casualty treaty in the D&O and professional liability practice areas.
Willis Group Holdings has announced the appointment of Carla D'Andre as executive vice president of global sales and marketing to lead the newly formed Global Corporate Practice. Prior to joining Willis, she was managing director at Aon Risk Services of New York. D'Andre has 30 years of insurance experience in retail broking and reinsurance.
From This Issue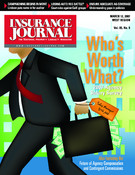 2007 Agency Salary Survey; Agency Technology/Public Entities; Agribusiness/Farm & Ranch