Markel Insurance Co. named Thomas K. "Smitty" Smith vice president of marketing. Smith joins Markel after three years as senior vice president and managing director of the Richmond, Va., branch of Riggs, Counselman, Michaels & Downes, which he established.
AIR Worldwide Corp. appointed John W. Rollins vice president. Rollins will be based in Tallahassee, Fla., and will provide catastrophe-risk related actuarial consulting services to AIR's clients. Also, he will direct and oversee the AIR Institute, an education and training program for catastrophe risk modelers and managers.
National Association of Insurance Commissioners President and Alabama Insurance Commissioner Walter Bell was elected vice chairman of the International Association of Insurance Supervisors Executive Committee. IAIS members also elected Michel Flamee chair of the committee. Flamee is vice chair of the Banking, Finance and Insurance Commission of Belgium.
Willis Group Holdings named Richard T. Hynes president and CEO of Willis Canada, succeeding Wole Coaxum. Hynes has 25 years of management and industry experience in the Canadian market.
Marsh UK promoted Roy White to practice leader of its Financial and Professional Services Practice (FINPRO), in Europe, Middle East and Africa. He is based in Marsh's London office.
Marsh UK also named Steve Stacey senior vice president, Client Development, for its Construction, Power & Utilities Practice. He joins Marsh from his Jardine Lloyd Thompson. He will be based in London.
Aon Re Global announced several management changes in its newly formed Europe-Middle East-Africa region and in the United Kingdom. Aon Re Global's European operations have been combined with those in Israel, Bahrain and South Africa to form Aon Re Global-EMEA. The changes include:
Vincent Redier, head of Aon France, now also serves as chairman of Aon Re Global-EMEA. Richard Posgate, formerly Aon Re Global's chief administrative officer, now is president and CEO of the new EMEA unit. Holger Gaserow, head of reinsurance operations in Germany, Austria and the Nordic countries, now also serves as deputy chairman of Aon Re Global-EMEA. Michel Hideux was named CEO of Aon Re France. Charlie Cantlay has assumed the role of chairman of Aon Re Global-U.K., having previously served as deputy chairman. David Ledger, who previously headed the international division of Aon Re Global-U.K., has assumed the role of CEO. Alastair Speare-Cole, who has led the Direct and Re Services areas, is chief operating officer at Aon Re Global- U.K.
Marsh & McLennan Companies' Guy Carpenter & Co. announced that Chairman Salvatore D. Zaffino has retired. He is continuing in his role as non-executive chairman of Guy Carpenter and will work in a consultative role with senior management at both Guy Carpenter and MMC.
Also, the company named Steven Hanke senior vice president-treaty for the Eastern Region of North America, responsible for new business development and client services. He also will help build the firm's Professional Liability Specialty Practice services and will be based in New York.
David Priebe was named head of Guy Carpenter's Global Specialty Operations, based in New York, where he will oversee the firm's 16 Specialty Practices, Instrat modeling and actuarial unit, and the Business Development unit.
And, the firm also named Kevin Griffiths head of Guy Carpenter's Global Casualty Specialty Practices. Griffiths will be based in Philadelphia.
Brian Hanuschak will assume Griffiths' role as Eastern Region Business Development Leader, while continuing to head the Alternative Risk Transfer Specialty Practice.
Hogan Insurance Services Inc. in Thousand Oaks, Calif., named Kevin Honaker vice president. Honaker spent the past year with Liberty Mutual as an account executive in the National Markets division.
Arrowhead General Insurance Agency Inc. named Jill D. McEntire marketing vice president for the Commercial division. She will be responsible for communication and support the Commercial Auto and Specialty Contractors programs, as well as review all producer appointments.
Tim Tomsen was named senior vice president, Emerging National Accounts, for Rancho Cordova-based Independent Solutions United, a member of Pacific Interstate Insurance.
Scottsdale, Ariz.-based Nautilus Insurance Group promoted Jim Schiffer to senior vice president of underwriting. Schiffer joined Nautilus in August 2006 as vice president of operations.
The University of Oregon hired insurance executive Pat Kilkenny, chairman emeritus of San Diego-based Arrowhead General Insurance Inc., as its athletic director. Kilkenny replaces Bill Moos. Kilkenny acquired Arrowhead in 1984 and sold it in 2006. He is an Oregon native who graduated from the University of Oregon in 1974.
Liberty International Underwriters, a division of Liberty Mutual Group, picked Vice President C.J. Johnson to head the Los Angeles operation's general liability office. Johnson has been in the industry for 28 years and has focused on general liability for two decades.
Aon announced that John Barrett has joined its Southern California executive team as resident managing director for Los Angeles.
Sam Cargill, formerly Los Angeles resident managing director, will now serve in a dual role as chairman of Aon Southern California and Aon Global Sales Leader – Americas. He will focus on developing new business and building stronger client relationships.
Bliss and Glennon Inc. has opened a regional office in Lynnwood, Wash., an appointed Nikki A. Wyer regional vice president. Wyer has more than 17 years of brokering experience.
Was this article valuable?
Here are more articles you may enjoy.
From This Issue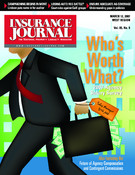 2007 Agency Salary Survey; Agency Technology/Public Entities; Agribusiness/Farm & Ranch