Willis Group Holdings Ltd. amended the employment agreement with Chairman and CEO Joseph J. Plumeri to extend the term for an additional year. The employment agreement, which was scheduled to expire Oct. 15, 2008, will now expire Oct. 15, 2009.
The Independent Insurance Agents and Brokers of America (Big "I") hired Jason Spence as assistant vice president for federal government affairs. Spence comes from the U.S. Department of the Treasury.
Elizabeth Furey, who has been with the Big "I" since 2005, will be director of federal government affairs and grassroots. Furey will continue her grassroots work while expanding her role to formally join the federal lobbying team.
Houston -based HCC Insurance Holdings Inc. promoted Annette J. Goodreau to senior vice president and chief actuary. Goodreau has 20 years of experience and has been with the company since 1999, most recently as senior vice president and chief actuary of its U.S property and casualty insurance company subsidiaries.
Beecher Carlson expanded its National Casualty Practice, appointing Sharon D. Brainard senior vice president. Brainard brings 13 years of experience with specialization in large casualty and alternative risk programs. Previously, she was a senior casualty broker in the southeast for Aon.
The Property Casualty Insurers Association of America expanded its federal advocacy capabilities by hiring Kate Prible as director, federal government affairs. Prible comes to PCI after six years as director, federal legislative affairs with the Credit Union National Association.
ACE Ltd. elected the company's CEO, Evan G. Greenberg, to chairman of the board of directors. He will succeed ACE founder Brian Duperreault, who will remain on the ACE board, at the expiration of his term.
Willis Group Holdings named Valerie Di Maria senior vice president and group marketing and communications director. She will lead worldwide marketing, brand and reputation management, executive communications, media relations, employee communications, government affairs, community relations, corporate philanthropy and events. Di Maria has 20 years of public relations and marketing experience, most recently with Motorola.
Cambridge General Agency appointed Paul Janofsky president. He has been with the company for the past 33 and recently served as executive vice president. Janofsky also serves as president of A. Mason Blodgett & Associates and Valley Insurance Associates, a surplus lines brokerage owned by Janofsky.
A. Mason Blodgett will serve as chairman of the board, and Gary Donkin, who has been serving the past 25 years as personnel manager, was elected secretary/treasurer.
Independent Solutions United named Graham L. Sterling III senior vice president of finance and acquisitions. He will be responsible contract review and risk transfer explorations, opportunity cost analysis, merger and acquisition activities, and premium finance opportunities. Previously, Sterling was director, general counsel at Liberty American Mortgage Corp.
Western Security Surplus Insurance Brokers Inc. promoted Wendy M. Clinton to broker, who will continue to work out of the Orange County, Calif., office. She began her job as a receptionist at the Pasadena office of Western Security Surplus in 1997.
Hamilton Brewart Insurance Agency named Gary Eilenfield an account executive. Eilenfield has more than 10 years of experience in the property and casualty insurance industry.
Steven Spellane of ABD Insurance and Financial Services was named "Rookie of the Year" by the San Diego Council of the Associated General Contractors. Spellane was honored for his involvement in local construction industry initiatives during the organization's annual awards program. Spellane, based in San Diego, joined ABD in Jan. 2006, adding his more than 10 years of industry experience in all phases of construction, real estate, technology, manufacturing, retail and financial services to the Carlsbad team.
The American Insurance Marketing and Sales Society announced the winners of its 2007 awards during the 20th Annual PRO-to-PRO held in Tucson, Ariz. AIMS Society Awards Committee Chairman, Martin A. Lebson of Capacity Coverage of NJ Inc. and AIMS Society President, Richard H. Dygve of Johnson & Strachan Insurance Agency Inc. presented the awards, which are designed to recognize members of the AIMS Society for outstanding sales achievement, retention and overall client development.
David "Lucky" Lippa of Lippa Insurance Services Inc. in Laguna Niguel, Calif., was awarded the 2007 Producer of the Year award based on his education and technical expertise, as well as personal production.
John A. Casper was named president and chief operating officer of Van Gilder Insurance Corp., in Denver. Casper comes to Van Gilder after 11 years at St. Paul Travelers, where he served most recently as regional president, overseeing the six states and three branch offices that comprise that company's Southwestern region.
Burns & Wilcox named Stephanie Miller commercial underwriter in the company's Las Vegas office. She will be responsible for partnering with agencies to grow the errors and omissions book of business. Most recently, Miller worked for Crump Insurance Services in Bothell, Wash.
Millennium Corporate Solutions appointed Ted Leventhal, director national claims, engineering and construction. Leventhal brings more than 30 years of insurance industry experience specifically in the area of insurance coverage and complex claims litigation. He was a national claims director for Willis Risk and Insurance Services for 26 years.
From This Issue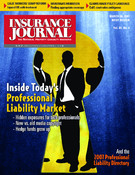 Professional Liability Directory; Transportation/Inland Marine/Cargo; Social Services/Non-Profits