Chicago-based Aon Corp. reported that David P. Bolger, executive vice president, chief financial officer and chief administrative officer, is leaving the company. Bolger will remain with Aon until the search for his successor is completed, a company spokesman told Insurance Journal. The company is searching for a new chief financial officer.
Bolger joined Aon in January 2003. Prior to that, he served in senior positions at Bank One Corp. and its predecessor companies, including American National Bank and First Chicago Corp.
Teena Hostovich, a senior vice president at Los Angeles-based Lockton Insurance Brokers LLC, was nominated for "Women Making A Difference," an annual event honoring L.A.'s most successful women. Hostovich was nominated for the "Executive of the Year" category, which recognizes executives who exceed the expectations of their organizations and are recognized as leaders among their peers.
Hostovich is Lockton's top female producer internationally and considered the company's authority on professional liability for law firms and higher education institutions.
Mary Augustyn was appointed vice president, finance for Liberty Northwest, a member of Liberty Mutual Group in Portland, Ore. Augustyn will manage the finance function and annual planning process, and have oversight of billing and collections activities, and financial compliance requirements. Previously, she was controller for Liberty Northwest, a position she has held since 2005.
Hamilton Brewart Insurance Agency added Robert Heath to its production staff. Heath has more than five years of experience in the property/casualty insurance industry in sales support and service, marketing and production.
AIR Worldwide Corp. named Milan Simic managing director of AIR Worldwide Ltd., the group's London office. He will be responsible for managing strategic operations in London, including overseeing the client services, software services and business development teams, and providing strategic input to AIR's research efforts in the United Kingdom and internationally. Simic joins AIR from his former position as co-head of the ReMetrics Natural Hazards team at Benfield.
Lloyd's of London Chairman Lord Peter Levene was awarded the "Personality of the Year" Award by the Brazilian Embassy and the Brazilian Chamber of Commerce in the United Kingdom. Lloyd's noted that the "award recognizes the contribution to strengthening economic-trade links between Brazil and the United Kingdom." He received the award along with the Brazilian winner, Antonio Francisco de Lima Neto, president of the Banco do Brasil.
The winners were chosen by the Council of the Brazilian Chamber of Commerce in the United Kingdom. The award recognizes Levene's commitment to the insurance and re-insurance industry in Brazil.
Managing general agent and program manager First Capital-AWIS LLC named two new underwriters.
Gerald McCabe is senior underwriter for the firm's commercial contractors facility in Naperville, Ill., where he will expand the firm's producer base in the Midwest. He was previously with Kemper and Great American Insurance.
Walter Smart is senior underwriter and will assist in underwriting First Capital's commercial contractors' program in the Northeast. He was previously with Empire Group.
First Capital has offices in Roslyn Heights, N.Y.; Naperville, Ill.; San Francisco and San Diego, Calif.
The not-for-profit Workers Compensation Research Institute, based in Cambridge, Mass., named Suzanne M. Guyan director of membership. Guyan will be responsible for building and maintaining relationships with public officials and WCRI stakeholders, and also will be responsible for growing and diversifying WCRI's membership support.
Since 2006, Guyan has been principal of S M Guyan and Associates, a consulting service for employee benefits including workers' compensation.
The Independent Insurance Agents & Brokers of America (the Big "I") honored an agent leader for her legislative leadership in 2006 at the Big "I" National Legislative Conference and Convention. Sharon Emek of CBS Coverage Group in New York received the Sidney O. Smith Award for her work in promoting the legislative goals of the Big "I," including her efforts to extend the federal Terrorism Risk Insurance Act.
Emek is the first woman to earn the Sidney O. Smith Award. She has testified in the debate about terrorism insurance in her home state of New York and before Congress. She also has conducted media interviews to educate the public and lawmakers on the importance of terrorism coverage.
Denver-based Van Gilder named Craig J. Nelson executive vice president of sales and business development, and Eileen Chen Munoz an account executive specializing in the oil and gas practice.
Nelson has more than 25 years experience in the industry.
Munoz is a graduate of the University of Pennsylvania and the Wharton School of Business.
Willis Group Holdings appointed Brendan McManus CEO of Willis UK and Ireland. He will take over from Allan Gribben, who was promoted to chief executive of Willis International, of which WUK&I forms a part.
McManus is set to join Willis in August 2007 from his post with Royal & SunAlliance, where he has worked for more than 20 years, most recently as managing director of R&SA's broker business.
Julie Burke joined San Diego-based Gaslamp Insurance Services as office manager. Previously, Burke was at Hub International of California Insurance Services Inc., specializing in construction risks.
Aaron Woods joined Burns & Wilcox in the company's Los Angeles office, which is located in Woodland Hills, Calif., as a personal lines underwriter/broker. Previously, Woods spent three years as a personal lines underwriter at Lexington Insurance Co. in Boston.
From This Issue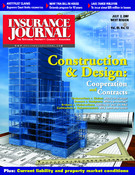 Construction/Architects & Engineers; Main Street Markets – Small Business Risks; Bars & Restaurants; The Commissioners, Part 2