Donald Gaddis Co. Inc. announced that Jay Dillon will lead the newly opened Franklin, Mich., office. Dillon has over 35 years of extensive commercial insurance experience, according to the Gaddis statement. For the past 15 years, he has been serving retail agents as a wholesale broker. Chicago-based Donald Gaddis Co. represents over 40 specialty and E&S carriers.
Farmington Hills, Mich.-based Burns & Wilcox appointed Doug Swiatkowski as director of education, training and development. Swiatkowski brings more than 10 years of training development experience to Burns & Wilcox. He is responsible for developing the company's education and training strategy and delivery system.
Previously, Swiatkowski was at Raytheon Professional Services in Troy, Mich., as training and development manager. He also held training and development roles at Volkswagen of America in Auburn Hills, Mich., and at Ford Motor Co.'s Fairlane Training and Development Center in Dearborn, Mich.
Burns & Wilcox is a specialty insurance and brokerage provider serving more than 30,000 agents nationally.
The Chicago Northwest Suburban Chapter of the Chartered Property Casualty Underwriter (CPCU) Society has installed the following new officers and directors: President Danielle Butkus, Zurich North America; President-elect Eric Hubicki, American Reinsurance Co.; Treasurer Randy Wright, Allstate Insurance Co.; Vice President Larry Moser, Allstate Insurance Co.; Secretary Chuck Stoll, Aon Risk Services Inc.; immediate Past President Tom Pavelko, American Agricultural Insurance Co.
Directors through 2007 are: Susan Champley, Farmers Insurance Group; Terese Peuvion, Zurich North America; and David Cohen, Zurich North America. Directors through 2008 are: Cathy Gainer, Zurich North America; Aldean Mellon, Scor Re; and Paul Begun, CNA Insurance. New designee representative is Elizabeth Carroll, Arthur J. Gallagher Risk Management Services Inc.
J.M. Wilson added Ted Darbor as the company's transportation manager and promoted Roxanne Barry to Property Casualty manager. Both will be located in the Portage, Mich., office.
Darbor comes to J.M. Wilson with 23 years of experience in the insurance industry having worked for Auto Owners, Northwestern National, Meridian Insurance and Bye Insurance & Financial Services. His experience includes positions in both underwriting and marketing, as well as working as a producing agent.
Barry has been with J.M. Wilson for 10 years, nine of which she worked as an underwriter for the Property & Casualty team, according to the company statement.
Barry is a Western Michigan University graduate. She has earned the CIC and CISR designations, and is currently working toward her RPLU.
J.M. Wilson is a managing general agency providing independent insurance agents access to markets for both personal and commercial lines.
CNA Financial Corp. in Chicago reported that James Abraham has joined the firm as senior vice president of property and marine.
Abraham has 25 years of industry experience, including serving as vice president of CNA's Minneapolis branch in 2002 and 2003. Most recently, he served as president and CEO for Willis of Minnesota.
As CNA's chief property officer, Abraham will also be responsible for the large property segment, marine, boiler and machinery and wholesale property.
Wells Fargo Insurance Services named Gina Samland managing director of its Omaha, Neb., office. Samland's responsibilities include the overall management, direction, expansion, and growth of the Omaha office. Samland most recently served as vice president, Health and Benefits Practice Leader for Aon Corp. where she was responsible for developing new business opportunities and growing revenue.
Richmond Heights, Ohio-based International Excess named Antony E. DeMarco president and chief financial officer.
DeMarco will focus on the development of additional revenue streams via various channels including nationwide program opportunities according to the company statement.
DeMarco earned his Bachelor of Science degree in finance at the University of Toledo and his Masters of Business Administration degree at Baldwin-Wallace College. He has worked extensively in U.S. leading financial institutions.
Itasca, Ill.-based Associated Risk Managers (ARM) added three new members to its Board of Directors: Robert E. Weaver, vice president, Jackson, Dieken & Associates, Westlake, Ohio, and past ARM chairman 2002-03; Kelly Shea, president, Landmark Group, Rochester, N. Y.; and John McLaughlin, executive director, ARM Northeast, Albany, N. Y. The organization's mission is to provide educational programs, resources, and revenue-generating opportunities for independent insurance agents. To date, the ARM network encompasses 260 independent member organizations spanning 25 states nationwide.
Less than six months after being promoted to the job, Joseph J. Beneducci has tendered his resignation as CEO of Fireman's Fund Insurance Co.
Effective immediately, Chuck Kavitsky, president of Allianz of America and the former Fireman's Fund chief executive whom Beneducci replaced, has been named interim CEO.
Beneducci started his job as CEO on Jan. 1, 2007, and resigned for personal and career reasons, according to Susan Murdy, the company's director of media relations. Murdy said a search is on for a new CEO and a permanent successor to Beneducci will be named in due course.
To submit information for "People," e-mail smckenna@insurancejournal.com.
From This Issue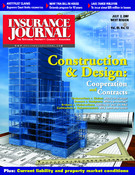 Construction/Architects & Engineers; Main Street Markets – Small Business Risks; Bars & Restaurants; The Commissioners, Part 2