The Insurance Marketing Communications Association named its 2007/2008 slate of directors and officers, with Cora Barran of Farmers Insurance Group continuing as IMCA president for her second year.
Barran is director of advertising for Farmers Insurance Group in Los Angeles. Barran has nearly 16 years experience in technical and underwriting positions, advertising and communications, mostly within the insurance industry. She joined IMCA in 1999 and has been a member of the board since 2003.
Other appointed IMCA officers are: Executive Vice President Rich Look, vice president of communications, Venture Insurance Programs; Vice President Mitch Dunford, publisher, Insurance Journal; Secretary/Treasuer Linda Collins, corporate communications manager, Arthur J. Gallagher & Co.; Immediate Past President Ron Rice, events manager, Russell Investments; and Past President (at Large) Reg Pierce, director of business development, The Bailey Group.
Also elected to the board of directors for 2006-2007 are: Greg Calestini, Mercator Special Risk; Jack Makuch, Allstate Insurance; Rob Martin, The Co-operators; Madeline Johnson, Cincinnati Insurance; Randy Clinger, Swiss Re.; Peter Broadbent, Wahlstrom Group; Gary Kimball, Kimball Communications; Tom Wetzel, Thomas H. Wetzel & Associates; and Steve Ryan, AICPU.
West Chester, Pa.-based Venture Insurance Programs named Michele Morrison as vice president of underwriting. Morrison will be responsible for the day-to-day oversight of regional underwriting teams throughout the company's programs, as well as for training the company's specialty underwriters. She'll also assist with maintaining productive relationships with agents and brokers.
Global insurance broker Willis Group Holdings ltd. announced that Lanny Johnson and Lisa Fielding King have joined the company's operations in greater Philadelphia.
Johnson, who joins Willis as a senior vice president of the company's operations in Pennsylvania, has more than 25 years of experience in the insurance industry, primarily with Marsh USA, where he was responsible for business development.
King, also a senior vice president of operations in Pennsylvania, will serve Willis' client needs as a client advocate. She brings 14 years of experience in the insurance industry, 12 of which were spent at Marsh USA, where she led a casualty broking team and served as a resource for the healthcare practice.
U.S. Risk Insurance Group Inc. has named Monte Stringer executive vice president and national brokerage manager of U.S Risk Brokers, the company's wholesale excess and surplus lines insurance brokerage operations.
In this capacity, Stringer will have direct managerial responsibility for all of U.S. Risk Brokers' branch offices and departments. U.S. Risk Brokers has offices in eight cities and employs more than 50 brokers, representing more than 100 companies nationwide.
Most recently, Stringer was executive vice president of marketing and manager of the Dallas office of U.S. Risk Brokers. Stringer has worked in the insurance industry for 30 years, including experience at two national insurance carriers. He joined U.S. Risk Insurance Group in 1996 and held positions of increasing responsibility during his 10 years with the company, including chief information officer.
Brian M. Storms has stepped down from his position as chief executive officer of insurance broker Marsh Inc. The company said the search for a successor is already underway. In the interim, Michael G. Cherkasky, president and chief executive officer of parent Marsh & McLennan Companies, Inc., will serve as Acting CEO of Marsh.
"Brian has made important contributions to Marsh's recovery over the past two years," Cherkasky said. "Our long-term strategy is sound and a solid foundation has been built. That said, we now need a different set of leadership and operational skills to complete the successful transformation of Marsh."
The Hanover Insurance Group, Inc. has confirmed that its recently-hired executive vice president and chief financial officer, John J. Leahy, is resigning for personal reasons. The company said the search for a successor is already underway.
In the meantime, Frederick Eppinger, president and chief executive officer, will serve as acting chief financial officer and Warren E. Barnes will be acting principal accounting officer. Barnes has been vice president and corporate controller since 1997.
Leahy was to succeed Edward J. Parry, III, who resigned in August to pursue other career opportunities.
Colemont Insurance Brokers has added Bob Drohan to the company's Hartford office as assistant vice president and financial services broker. Drohan has 30 years of experience in the industry. Most recently, he was national director of professional liability and wholesale for Norman Spencer, McKernan, Inc. He has also served as chief underwriting officer at Target Capital Partners and worked at Travelers Insurance Co. and Lexington Insurance Co.
Ames & Gough, a specialty insurance broker focused on serving architects, engineers, contractors and law firms, has named Meike Olin as its first national marketing director.
In addition to overseeing the publication of informational bulletins and white papers, she will also work on educational seminars, webinars, and industry conferences.
Olin comes to Ames & Gough from Marsh, where she was a senior member of the U.S. marketing team. Prior to her tenure at Marsh, she was the editor of The John Liner Review and Workers Compensation Outlook.
Ames & Gough has offices in Atlanta, Boston, Philadelphia, and Washington, D.C.
From This Issue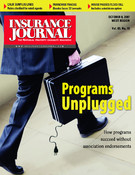 Salute to Program Managers; Business Owners Policy; Risk Retention Group Directory