Kenneth A. Bowles has been named the 2008 PIA National Professional Agent of the Year by the National Association of Professional Insurance Agents.
Bowles was honored for his work on behalf of professional insurance agents, his commitment to the highest standards of professionalism in his industry, his active leadership in PIA and his dedication to his community.
Bowles is owner of The Archer Agency/Rogers Agency of Kingsport, Tenn. He formed The Archer Agency from scratch in 1991 and purchased the Rogers agency in 2003.
Bowles is an insurance educator who teaches continuing education courses for the PIA of Tennessee along with PIA of Nebraska and Iowa and has written several of the courses that he teaches. Bowles is a senior instructor for Commonwealth Academy of Professional Education. He is a member of the Insurance Liaison Committee of Middle Tennessee State University and also serves as a member of the selection committee for the Tennessee Insurance Hall of Fame at MTSU.
A firm believer in the importance of insurance education, Bowles is adamant that his employees are among the best educated in insurance in his area. He requires each of them to attain a professional designation of their choice which he pays for in its entirety.
Bowles was the recipient of the 2007 PIA of Tennessee Professional Agent of the Year Award.
Bart Straka has been named the 2008 PIA National Young Insurance Professional of the Year. The award was presented March 1, 2008 by the National Association of Professional Insurance Agents (PIA).
Straka is vice president and commercial sales manager of TRICOR, Inc., a PIA member agency in Lancaster, Wisconsin.
The PIA National Young Insurance Professional of the Year Award recognizes outstanding achievement by an individual under age 40. Straka was honored for his many activities in support of professional insurance agents and his efforts to attract more young people into the insurance industry. Straka is a past chair of the PIA of Wisconsin Young Professionals Committee. He has also participated in career and job fairs at universities and technical schools throughout Wisconsin.
Dallas-based U.S. Risk Underwriters has named Lorna Greenwood as program manager. In this position, Greenwood will create and promote new commercial programs and products, as well as design procedures for the programs. She will also offer marketing assistance to carriers of existing programs, including actuarial data reporting.
Greenwood has a decade of underwriting, marketing and sales experience in commercial lines, including experience as an underwriter for U.S. Risk Underwriters. Most recently, she was manager at Worldwide Risk Services, where she was responsible for commercial lines business and life, accident and health, as well as marketing, underwriting and process design for direct retail and wholesale. Prior to that, she was underwriter for Fairmont Specialty Group Inc.
Atlanta-based Beecher Carlson has appointed Toni Johnson senior vice president in its national construction and real estate practice. Johnson will spearhead the expansion of Beecher Carlson's Northern California construction, real estate and national affordable housing business. She will be based in the San Francisco office.
Prior to joining Beecher Carlson, Johnson worked for Marsh in San Francisco.
Alliant Insurance Services, a California-based specialty insurance brokerage firm, reports that Joseph A. Mauro, a veteran insurance industry sales executive, has joined Alliant's New York office as business development director.
Mauro, who will report to Alliant Chief Operating Officer Jerry Hall, has more than 25 years of sales experience in the insurance industry. He joins Alliant after two years as regional sales leader at Banc of America Corporate Insurance Agency, the Cranford, N.J.-based insurance subsidiary of Bank of America that was sold by BofA in November.
Hall said Mauro's business development efforts will be highly strategic and will include recruiting experienced brokers with established books of business.
Prior to Banc of America, Mauro was senior managing director of New York-based Frank Crystal & Co., where he led efforts to expand and develop a new producer sales force throughout the country, develop new profit centers, expand office locations throughout the U.S. and recruit executives into the organization. Mauro also has held positions at other large regional insurance and benefit brokerage firms, including Hub International in New York, USI Northeast in Briarcliff Manor, N.Y., and Nationwide/Wausau Insurance in Wallingford, Conn.
Mystic Capital Advisors Group has added Barry J. Gilway to its investment banking group. The former Zurich executive brings more than 37 years of insurance expertise to his new role as strategic consultant for Mystic Capital's mergers and acquisitions practice.
Gilway was most recently executive vice president for Zurich North America, where he was responsible for the service divisions within Zurich's $17 billion North American operation. Previously, he served as president and CEO for Zurich North America Canada in Toronto, and as president and CEO for Maryland Casualty Group in Baltimore. While with Zurich, Gilway evaluated strategic acquisitions for Zurich, W.R. Berkley Corp. and Crum & Forster.
Aon Consulting Worldwide, the global human capital consulting organization of Aon Corp., announced that Mary Kay Vona joined the Tampa, Fla., office as executive vice president and southeast region leader.
Vona brings nearly 25 years of consulting experience to Aon Consulting. She will be responsible for account management and business development as well as staff development and retention. Vona joins Aon Consulting from IBM. Aon Consulting's southeast region consists of Maryland, Washington, D.C., Virginia, North Carolina, South Carolina, Georgia and Florida.
The London-based reinsurance division of Lockton has appointed Julian Wood as executive director. Wood will help create a new specialist engineering and construction treaty reinsurance team. Wood previously worke at GE Frankona Re and with Willis Re, where he held a senior role within the broker's global engineering and construction practice group.
From This Issue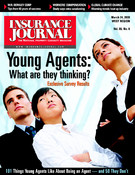 Salute to Independent Agents; Errors & Omissions; Energy/Oil & Gas