The Hartford's Chief Financial Officer David M. Johnson plans to step down later this year. He has served as the company's top financial officer since 2001, and will remain in the position until a successor is found.
Before coming to The Hartford, Johnson served as senior executive vice president and CFO of Cendant Corp., and prior to that served in several roles at Merrill Lynch.
Johnson has received numerous plaudits during his career. In 2000, CFO Magazine named him one of the leading CFOs in the United States under the age of 40. Institutional Investor Magazine named him one of The Best CFOs in America for 2004, 2005 and 2006.
Former Ace Ltd. CEO and Chairman Brian Duperreault stepped down from the Bermuda-based insurer to assume to role of president and CEO of Marsh & McLennan Companies Inc.
Duperreault replaces Michael Cherkasky, who had been president and CEO since October 2004. MMC announced in December its intention to find a successor to Cherkasky.
From 1994 to 2004, Duperreault served as CEO of ACE Ltd., the Bermuda-based insurer MMC helped found in 1985. He served as board chairman from 2004 to 2007.
Prior to ACE, Duperreault was with American International Group for more than 20 years.
Atlanta-based Proudfoot Consulting named former Ohio Casualty Corp. CEO Dan R. Carmichael senior advisor to the firm.
Carmichael joined Ohio Casualty Corp. as president and CEO in 2000, where he assembled the executive management team, assisted in the recruitment of a new, independent slate of directors, and led the group to develop and execute a strategic plan to restore the corporation's financial strength and performance.
In 2007, Liberty Mutual acquired Ohio Casualty for $2.7 billion. Carmichael remained through the transition as a senior advisor.
U.S. Risk Insurance Group Inc. named Jeff Hicks senior underwriter in its Commercial Underwriting department. He will specialize in transportation, property and casualty lines (including umbrella), primarily in Texas, but will have additional opportunities to provide coverage in nearby states such as Louisiana, New Mexico, Oklahoma and Arkansas.
Most recently, Hicks was a senior commercial underwriter for the East Texas territory of Unitrin Business Insurance. Prior to that he was with Auto Owners Insurance Co.
Aon Corp. named Andrew Appel CEO of Aon Re Global and chairman of Aon Consulting.
Appel served previously as CEO of Aon Consulting. He replaces Ted T. Devine, who was recently appointed president of Aon Risk Services.
Aon Re Global also appointed Robert J. Cooney managing director of Aon Capital Markets and vice chairman of Aon Re Global in Bermuda.
Cooney previously was a director of Max Re from its formation in July 1999 and as president and CEO from September 1999 to October 2006. From 1987 to 1998, he held various senior management positions at XL Capital Ltd., including president and CEO of XL Insurance Ltd. and executive vice president of XL Capital Ltd.
Aon also announced the promotion of Kathryn Hayley, CEO of Aon Consulting U.S., and Baljit "Bal" Dail, global chief information officer of Aon Corp. and global chief administration officer of Aon Consulting, to the position of CEO and co-head of Aon Consulting. Hayley and Dail will chair the executive global operating committee.
Zurich named Kevin McCracken executive vice president-casualty, and Joseph Tocco executive vice president-property for the insurer's Global Corporate in North America unit. Both will report to Paul Horgan, the unit's newly appointed chief underwriting officer.
McCracken will be responsible for casualty coverage, including all large casualty accounts, excess workers' compensation and international casualty business written in North America. He joined Zurich earlier this year as senior vice president-casualty, Northeast Region, and leader of the company's excess workers' compensation business nationally.
Tocco will be responsible for property lines, including highly protected risks, global property, boiler and machinery, health care, and national accounts property segments. He joined Zurich from Munich Re in 1996 as vice president and national director of engineered lines. He was appointed senior vice president-Northeast Region property manager in 2001.
Marsh appointed Sarah Richmond a risk consultant in its Europe, Middle East and Africa Product Risk Practice. Marsh noted that she is the first of three new appointments to this expanding team. Before joining Marsh, Richmond was with Danone, Waters UK & Ireland. Richmond will be based in Marsh's London office.
The Proformance Insurance Co., the main operating subsidiary of National Atlantic Holdings Corp., a provider of specialized property casualty insurance products based in Freehold, N.J., appointed Thomas Glowacki vice president of claims.
Prior to joining Proformance, Glowacki was the New Jersey regional liability claims manager for The Hanover Insurance Group, where he was responsible for claims operations in four states. Previously, he held claims management positions at Hanover Insurance Group, Commercial Union Insurance Co. and Safeco Insurance Co.
Safeco Insurance Co. named Paul Chmura Northeast regional executive. Chmura comes from The Hanover Insurance Group, where he was the regional vice president of sales and distribution for the Northeast region. Chmura has extensive industry experience, starting as a commercial lines producer in 1987. He will manage the business from the Hartford service office located in Farmington, Conn.
Safeco also named Rauline Gonzales Ochs executive vice president for sales and marketing.
Ochs, formerly Oracle's senior vice president for North American alliances and channels, has more than 20 years of experience building sales, marketing and distribution management teams at Oracle, BEA Systems and IBM.
Charlotte, N.C.-based LMC Capital LLC, named Patrick Vaughn managing director. He will lead LMC's mergers and acquisitions practice for insurance technology and services companies.
Previously, Vaughn was a managing director at Triarch Partners, a Charlotte, N.C., boutique investment bank. Prior to Triarch, he was president and CEO of Market Velocity Inc., a technology services company.
XL Capital Ltd. announced that Clive R. Tobin will retire on April 1 from his role as CEO of the company's insurance operations. He will continue to assist XL with strategic opportunities in emerging markets.
David B. Duclos, currently COO of XL's Insurance Operations will succeed Tobin as chief executive.
Tobin's new title is vice chairman of XL Insurance Ltd. He will initially work with Duclos during the transition, concentrating on the development of the company's joint venture in Brazil, which he spearheaded in 2006.
Duclos has 28 years of experience in the industry. He joined XL in October 2003 after three years at Kemper Insurance Co. Prior to Kemper he spent 21 years at CIGNA Corp., where he held regional and national management roles in the field and home office.
Bermuda-based Endurance Specialty Holdings Ltd. added Robert Needle as executive vice president excess casualty and professional lines, subject to approval by the Bermuda Department of Immigration.
Needle began in the legal field focusing on insurance matters. He then joined Alexander & Alexander and Aon, where he served in senior executive capacities during a 27-year period. Most recently, he served as an attorney with Gibbons P.C., as counsel in the insurance practice group.
Miller Insurance Services Ltd., an independent specialist insurance and reinsurance broker operating in the international markets and at Lloyd's, announced that Richard Court will lead the company's new facultative reinsurance team, with Robert Doust.
Both men joined Miller from Guy Carpenter's GCFac unit. They have a combined 40 years of insurance industry experience in facultative reinsurance, including the development of strategies in offshore and onshore energy and other classes of business.
Willis Group Holdings appointed Alena Watchorn to its mergers and acquisitions practice group as an executive director. She joins Willis from HSBC Insurance Brokers, where she headed the corporate finance team and built an environmental insurance advisory team.
At Watchcorn will focus on broadening and strengthening the relationships Willis has with M&A clients and their advisers.
New Mexico's Public Regulation Commissioner Jason Marks has been elected as chairman of the utility regulatory agency. The 5-member PRC oversees insurance, electric and natural gas utilities, telecommunications and some transportation companies.
Marks succeeds Commissioner Ben Ray Lujan as chairman. Lujan, a Democrat, is running for the congressional seat being vacated by Democrat Tom Udall.
Marks, of Albuquerque, was elected to the commission in 2004 and has been vice chairman for three years.
Commissioner Sandy Jones was selected vice chairman by commission members.
San Diego-based Barney & Barney named Alice Campbell a principal in the employee benefits division. Formerly president of Campbell Benefits, she began her career as an employee benefits manager at Carondelet Health Services in 1981. She previously worked for Barney & Barney in the 1980s.
From This Issue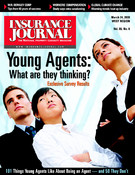 Salute to Independent Agents; Errors & Omissions; Energy/Oil & Gas