The Governing Board of the California Earthquake Authority has hired Glenn A. Pomeroy as CEO. Pomeroy has extensive experience in public service positions, including former commissioner of insurance of North Dakota. In addition, Pomeroy has served as North Dakota securities commissioner, assistant attorney general and three terms in the North Dakota House of Representatives.
Pomeroy served in the National Association of Insurance Commissioners (NAIC), leading the organization as president in 1998. During his service with NAIC, he led negotiations that created the International Commission for Holocaust Era Insurance Claims.
The California Earthquake Authority is a publicly managed, largely privately funded organization that provides catastrophic residential earthquake insurance and encourages Californians to reduce their risk of earthquake loss.
Patrick G. Ryan, founder and executive chairman of insurance intermediary Aon Corp., said he intends to retire from Aon effective Aug. 1, 2008. Ryan said the firm's transition to a new management team under CEO Greg Case is complete.
Ryan, 70, founded Chicago-based Aon, which has its origin in a small insurance agency he started in 1964. That agency eventually became Ryan Insurance, a firm focused on a strategy of providing advice, consulting services and distribution of insurance products to the automotive industry.
In 1978, Ryan Insurance purchased the insurance brokerage subsidiaries of Esmark Corp., expanding into risk management services for commercial and industrial clients. In 1982, following a merger with Combined Insurance Co. of America, the company acquired Rollins Burdick Hunter, then the seventh largest insurance broker. The company continued to expand through organic growth and acquisition, and in 1987 changed its name to Aon Corp. Through the late 1980s and into the 1990s the company continued its strategy of acquisition. Today Aon operates with more than 500 offices in 120 countries generating revenues in excess of $7 billion.
Ryan will continue as chairman of the Board of Trustees of Northwestern University, and as chairman and CEO of Chicago 2016, the effort to bring the 2016 Olympic and Paralympic games to Chicago.
Lyle D. Rhodebeck was recently named director of operational effectiveness of the State Auto Insurance Companies and was elected vice president by the Boards of Directors of State Automobile Mutual Insurance Co., State Auto Property & Casualty Insurance Co., State Auto Wisconsin, Meridian Security, State Auto Florida, Beacon National and Beacon Lloyds.
After spending the first 16 years of his insurance career in finance and accounting with Shelby Insurance, Rhodebeck joined Grange Insurance, where he spent the past 13 years as vice president of claims, vice president of personal lines and vice president of information services/technology.
The State Auto Insurance Cos., headquartered in Columbus, Ohio, are engaged primarily in writing personal and business insurance products exclusively through approximately 3,400 independent insurance agencies in 33 states.
Agency Specialty Product Network, a unit of Aon Corp., has named five new regional vice presidents.
Paul Granata will head the Southwest Region, which includes Arizona, New Mexico, Southern California, Southern Nevada and El Paso, Texas. Granata joins ASPN after 11 years at Great American Insurance Group. He served most recently as regional marketing manager of Great American, and prior to that, he was southwestern regional manager for AIG.
Kim Wells will head the West Central Region, which includes Central and Northern California, Hawaii and Northern Nevada. She joins the firm from Victor O. Schinnerer & Co., where she served as vice president, public entity programs. Her insurance industry background spans 23 plus years and includes experience in insurance brokerage management, regional and senior underwriting, marketing management, product development, strategic marketing and overall management.
Connie Adams will head the Mid-Central Region, which covers Iowa, Kansas, Missouri, Nebraska and Oklahoma. Adams has spent over 30 years in the insurance and finance industries, working with the independent agency system in her current location as well as in Virginia and Washington, D.C.
XL Capital Ltd. has named Michael S. McGavick as its next CEO.
He joins XL on May 1, succeeding Brian M. O'Hara, XL's CEO for the last 13 years, who announced in October 2007 that he would retire from the position by mid-2008.
McGavick's appointment is subject to immigration approval from the Government of Bermuda.
He served as president and CEO of the Seattle-based Safeco Corp. from January 2001 to December 2005. Prior to joining Safeco, McGavick spent six years with the Chicago-based CNA Financial Corp., where he held various senior executive positions before becoming president and chief operating officer of the company's largest commercial insurance operating unit. He also served for two years as director of the American Insurance Association's Superfund Improvement Project in Washington D.C.
Most recently McGavick ran unsuccessfully in Washington for a seat in the U.S. Senate.
Florida-based Allstate Workplace Division, a subsidiary of The Allstate Corp., has appointed W. Wayne Watkins, as executive vice president for sales and distribution. In his new role, Watkins will oversee all the sales operations of the company, including the distribution of Allstate Workplace Division products through both the Allstate and independent agency channels.
To submit information for "People" e-mail smckenna@insurancejournal.com.
From This Issue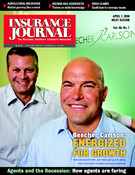 Directors & Officers Liability; Entertainment/Sports/Special Events; Group Products for P&C Agents/ Benefits Brokerage Directory