Golden Eagle Insurance, a Liberty Mutual Agency Markets regional company, appointed Pete McPartland president and CEO.
McPartland comes from General Casualty in Sun Prairie, Wis., where he led insurance operations for QBE Regional Insurance as chief operating officer. He succeeds Frank Kotarba, who announced his retirement following eight years in which he led the company to more than triple its property and casualty business in California.
McPartland joined General Casualty in 1994 and has served in several senior executive capacities. He has experience in underwriting, marketing, and field management. He serves on the board of directors for the Workers' Compensation Research Institute based in Cambridge, Mass. He also serves on the boards of Meriter Health Services and Physicians Plus Insurance Corp., both in Madison, Wis.
Aon Corp. a risk advisor and insurance broker, announced that Marcus Kim, Janet Ng, Jeff Case and Frank Wirt joined the company's Honolulu office.
Kim has 23 years of risk management and consulting services experience, with a background in the health care and property arenas. As senior vice president, he will focus on health care systems, long term care, physician groups and large property portfolios. Prior to joining Aon, Kim spent 13 years at Marsh, where he was senior vice president of its healthcare and property practices.
Ng returns to Aon as a senior vice president after nearly four years at Marsh, bringing with her 25 years of experience in the construction and transportation insurance industries. She will be responsible for the sales and servicing of controlled insurance programs and will provide account services/casualty coverage for general and specialty contractor clients. Ng was previously a senior vice president at Marsh, where she led its Hawaii construction practice.
Case also returns to Aon as a senior vice president, after spending the past four years at Marsh under the same title. With more than 23 years of insurance industry experience in client service and program negotiation, Case will help clients to best manage their property, casualty and executive liability risks.
Wirt comes to Aon with eight years of experience in the construction and surety insurance industry. He will focus on surety issues related to its contractor and developer clients. He was previously a vice president at Marsh, a past president of the Construction Financial Management Association and former treasurer of the Hawaii Surety Association.
PIA Western Alliance named Amanda Washington junior vice president. She will take a greater role in the day-to-day operation of the Western Alliance's nonprofit operation, including membership, conventions, marketing, education and communications.
Washington has been with the PIA since November 2003, when she was hired as a part-time receptionist. She is a licensed agent and is working on a CISR designation.
Christine Faber joined M.J. Hall and Co. Inc.'s Arizona branch to work on managing general agent and brokerage business.
Faber comes to M.J. Hall with seven years industry experience working in underwriting and sales.
Gwen Ware also joined the company as marketing representative in the company's corporate office in Stockton, Calif.
She replaces Sarah Marsh, who will become a broker/ underwriter for M.J. Hall later this year.
Ware has been in the insurance business for more than 12 years. She has sales and marketing experience, and a background in commercial property underwriting. Ware was most recently with Maritime Central.
California's State Compensation Insurance Fund appointed Pedro Ruiz attorney-in-charge for the Monterey Park Subrogation Unit.
Ruiz joined the organization's Los Angeles District Office in 1989 when he was hired as a claims adjuster. He garnered "Adjuster of the Year" honors in his first year on the job and honed his claims knowledge as a vocational rehabilitation counselor in 1990. He rose through the ranks becoming assistant claims manager of the Los Angeles District Office in 1992, and followed this with a claims management services assignment in 1998. Most recently, he was with Orange County Corporate Civil Litigation.
The National Association of Professional Insurance Agents promoted Ted Besesparis to senior vice president of communications.
Besesparis joined PIA in May 1995 after a career as a print and broadcast journalist at the local and national level. He was national editor for Standard News, a nationwide radio network and newswire service in Washington, D.C., where he served on the White House Press Pool. Previously, he was a news editor for Tribune Media Inc., and he spent 14 years as a news anchor and radio talk show host in Palm Beach, Fla.
Cavignac & Associates, a San Diego-based risk management and commercial insurance brokerage firm, promoted Margie Wager to surety department manager. She will manage the firm's surety department personnel and operations, as well as handle all surety customer accounts.
Wager has been with Cavignac & Associates since 2002, and previously served as senior account manager. She has more than 25 years of experience in the surety industry.
Lawson-Hawks Insurance Associates, an insurance intermediary and broker based in Mountain View, Calif., named Nancy Frost vice president of employee benefits.
Frost, who has a background in employee benefits coalitions, trusts, joint power authorities, fully insured and self-insured plan designs and pooled insurance products, will lead a team of client account managers, assistants and marketing personnel who oversee the day-to-day servicing of her client accounts. She also will monitor and assist in fulfilling client-specific requests, open-enrollments, plan and design changes and employee education.
American Aim Insurance Agency Inc. appointed Samantha Russell head of the personal lines division at the company's office in Fair Oaks, Calif. Russell will serve as a liaison to both standard and preferred carriers, and new and existing clients.
Englewood, Colo.-based Colorado Casualty, a Liberty Mutual Agency Markets regional company, announced that President and CEO Donald E. Frette retired in May. Keith Braxton, previously regional vice president for Golden Eagle Insurance, an Agency Markets company in San Diego, will replace Frette.
Frette was named president and CEO in 2001. Under his leadership, Colorado Casualty has grown from a company with $30 million in direct written premium and 30 employees to an organization with more than $250 million in direct written premium and more than 200 employees.
Tustin, Calif.-based Yates & Associates hired Cynthea Vaglienty as commercial transportation underwriter and broker.
Vaglienty began her insurance career in 1995 at Roger Stone Insurance. After a few years on the retail side, she moved to Sun Coast General Insurance as a commercial underwriter. She came to Yates & Associates after four years at Robert Moreno Insurance.
Lyle D. Rhodebeck was named director of operational effectiveness of the State Auto Insurance Companies and was elected vice president by the boards of directors of State Automobile Mutual Insurance Co., State Auto Property & Casualty Insurance Co., State Auto Wisconsin, Meridian Security, State Auto Florida, Beacon National and Beacon Lloyds.
After spending the first 16 years of his insurance career in finance and accounting with Shelby Insurance, Rhodebeck joined Grange Insurance. He spent the past 13 years as vice president of claims, vice president of personal lines and vice president of information services/technology.
Agency Specialty Product Network, a unit of Aon Corp., named five new regional vice presidents.
Paul Granata will head the Southwest region, which includes Arizona, New Mexico, southern California, southern Nevada and El Paso, Texas. Granata joins ASPN after 11 years at Great American Insurance Group. He served most recently as regional marketing manager of Great American. Prior to that, he was southwestern regional manager for AIG.
Kim Wells will head the West Central region, which includes central and northern California, Hawaii and northern Nevada. She joins the firm from Victor O. Schinnerer & Co., where she was vice president, public entity programs. Her industry background spans 23-plus years and includes experience in insurance brokerage management, regional and senior underwriting, marketing management, product development, strategic marketing and overall management.
Connie Adams will head the Mid-Central region, which covers Iowa, Kansas, Missouri, Nebraska and Oklahoma. Adams has spent more than 30 years in the insurance and finance industries, working with the independent agency system in her current location as well as in Virginia and Washington, D.C.
Marjie Amick, a 24-year industry veteran, will join American E&S Insurance Brokers' Carlsbad, Calif., branch.
Most recently, Amick was with Monarch E&S Insurance Brokers in San Diego. Her book of business has included contractors, professional liability, environmental, products liability and more.
Burns & Wilcox named Denise DiPietro vice president/California brokerage in the company's San Francisco office. She specializes in general liability and contractors coverage, but will be responsible for growing all areas of the company's brokerage business, including property, professional liability, environmental and transportation.
Prior to joining Burns & Wilcox, DiPietro was vice president and branch manager for Colemont Insurance Brokers. With more than 15 years experience in the insurance industry, DiPietro also held roles at Arrowhead General Insurance Agency and DiPietro Insurance Services, which she owned.
California-based Monarch E&S Insurance Services announced the return of Dina Dryden as a senior commercial underwriter for the property and casualty department. She will work from the San Diego office and will be responsible for increasing business, new and renewal, specifically in the property/casualty arena.
Dryden began her insurance career in 1995 on the excess and surplus lines side. She has more than 13 years of experience in the marketplace.
Also, Monarch named Dona Shurtz to head its branch office in Fresno, Calif. Shurtz has 26 years of industry experience, 24 spent working in commercial lines.
Newark, Calif.-based Risk Management Solutions appointed Raj Manghani vice president of underwriting solutions product management. He will lead RMS' efforts to help insurers use catastrophe modeling to assist with underwriting decisions.
Manghani recently served as executive director, risk analytics product management at MSCI Barra, a subsidiary of Morgan Stanley.
From This Issue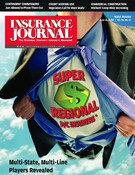 Salute to Super Regionals; Construction; Corporate Profiles