Robert J. Ray has been appointed vice president and treasurer of Rogers & Gray Insurance Agency in Massachusetts. Ray joined the agency in July 2008 as chief financial officer. He previously worked at Hub International, formerly Brewer & Lord, and has also worked in the financial, high tech, construction and engineering industries. He will oversee both the finance and the information technology departments at Rogers & Gray.
Terese Cefaioli has joined the CORE Business Group at TD Insurance Inc. in Methuen, Massachusetts, where she will lead the group's Life Science and Technology Practice throughout the region, including New England and the Mid-Atlantic states. Prior to joining TD Insurance, Cefaioli held a senior position with William Gallagher Associates. She has 35 years of experience in the insurance industry and holds distinction as a Chartered Property Casualty Underwriter (CPCU).
Worcester, Massachusetts-based insurer The Hanover Insurance Group has named Keith A. Powers as regional vice president, Commercial Lines, for the company's Connecticut market. Powers, who will work out of the company's Glastonbury, Connecticut office, will be responsible for all facets of commercial lines business development in the state, working closely with the company's independent agent partners. Powers comes to The Hanover from MiddleOak Insurance, where he served as senior vice president for MiddleOak SNE and MiddleOak CNE. Previously, Powers served as personal lines vice president for sales and marketing at OneBeacon Insurance, in the company's New England region, and as vice president for underwriting and marketing at Arbella Mutual Insurance Company, in the company's Massachusetts market.
Insurance brokerage Willis Group Holdings has appointed Peter A. Gilbertson as managing partner and growth leader for Willis HRH in New Jersey. Gilbertson will oversee the day-to-day operations of Willis's brokerage offices in Cranford, Florham Park, Morristown and Mount Laurel and drive business development throughout the state. Gilbertson brings more than 20 years of insurance industry experience to the position. He most recently was head of the Global Brokers segment at AIG Commercial Insurance, where, as senior relationship executive, he was responsible for AIG's trading relationships with top global brokers, including Willis. He has also held positions with Marsh, JP Morgan and Aon.
Target Insurance Services has hired Scott Umstot as senior production underwriter in its Avon, Connecticut headquarters. Umstot most recently handled the technology E&O program at Darwin Professional Underwriters. Prior to that, he spent several years with the Chubb Group underwriting various E&O classes. Target, which also has a branch office in Naperville, Illionois, is a managing general underwriter with specialty insurance programs for accountants, home inspectors, lawyers, and staffing & recruitment firms.
Steven Spiro, president of Spiro Risk Management in Valley Stream, N.Y., has been named the first-ever winner of the "1882 Fellow Award" by the the Independent Insurance Agents & Brokers of New York (IIABNY). Spiro received the award in February during an event in Albany. The award is named after the year of IIABNY's founding and is given to individuals whose dedication to the independent insurance agency system and community service captures the spirit of the award. Spiro currently serves as IIABNY's national director and its former president. He also heads the association's state political action committee and has served on IIABNY's nominating committee as well as other executive committee positions.
Richard G. "Dick" Clarke, senior vice president of J. Smith Lanier & Co. in West Point, Ga., has been elected 2009 president of RiskProNet International, a network of 25 independent insurance brokers in North America. Clarke is a veteran of the insurance industry, having been a broker, consultant, underwriter and insurance buyer. He is a frequent contributor to various publications and teaches in the Certified Insurance Counselors Ruble Seminar Program offered by the National Alliance for Insurance Education and Research, and workshops offered by the Chartered Property Casualty Underwriters Society around the United States. The fourth edition of his book, "Decoding Executive Liability Insurance," was published last year by the National Alliance Research Academy.
Hiscox has hired Steve Silverman to lead its inland marine insurance initiative in the U.S. market. Silverman, a vice president, joined Hiscox from American International Group's Lexington Insurance, where he was most recently assistant vice president and product line manager for Inland Marine and Specialty Property business in the U.S. and Canada. Prior to joining Lexington, Silverman spent most of his career with Aetna Casualty & Surety in a variety of property and inland marine roles. He is joined by Randi Glazer, assistant vice president, who comes to Hiscox from the Fireman's Fund Insurance Co., where she was the Inland Marine manager for the New York region. She has also positions with CNA, Chubb and Swiss Re America.
W. R. Berkley Corp. announced several appointments to its Berkley Agribusiness Risk Specialists, a new division of its Continental Western Group, LLC. Terry Shaw has been appointed division president and Brad Waline and Brad London have each been named senior vice president of the division.
From This Issue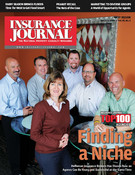 Hospitality Risks Directory; Homeowners and Auto/Antiques and Collectibles; Long-Haul Trucking/ Energy/Oil & Gas