Jeff Grace has been named president of IMA of Wichita, officials for The IMA Financial Group Inc. announced.
Grace joined IMA in 1997 in business development, focusing on the construction practice, and was promoted to sales manager for the Wichita office in 2007.
Grace's insurance career began in 1995 underwriting surety risk, executive protection and commercial lines business at Chubb. He has held previous positions with The St. Paul Companies construction group before joining IMA. His professional background also includes partially owning/managing two Wichita-based specialty construction firms.
Brad Gow joined Zurich North America to head the Specialty Errors & Omissions (E&O) group of its Specialties business unit.
Gow will head a nationwide team focused on engineering, media, technology, real estate and specified professions. Gow will also be integral to the launch of new products for emerging E&O exposures, such as security and privacy risks.
Gow brings 20 years of insurance industry experience to Zurich. Most recently, he was vice president of Professional Liability product management with ACE Insurance, where he developed a line of technology E&O and network risk products.
Before joining ACE, Gow was co-founder of Net Diligence, a network security and privacy consulting firm. Between 1992 and 2000, Gow held a variety of positions with CIGNA, including international roles in Tokyo and Bangkok. He began his insurance career at AIG in 1989.
Richard G. "Dick" Clarke, senior vice president of J. Smith Lanier & Co. in West Point, Ga., has been elected 2009 president of RiskProNet International, a network of 25 independent insurance brokers in North America.
Clarke is a veteran of the insurance industry, having been a broker, consultant, underwriter and insurance buyer. He is a frequent contributor to various publications and teaches insurance courses around the United States. He is the author of "Decoding Executive Liability Insurance."
RiskProNet partners in 2008 had combined revenues in excess of $688 million and more than $6.5 billion in written premium. Each partner is an equal owner in the association.
W. R. Berkley Corp. announced the formation of Berkley Agribusiness Risk Specialists, a new division of its Continental Western Group, LLC.
Based in Des Moines, Iowa, Berkley Agribusiness Risk Specialists will operate nationally and offer property and casualty insurance products to mid-sized and larger commercial agribusiness and related risks. The new division will serve customers in regional grain storage and marketing, grower-packer-shippers, and food and beverage distribution, among others.
Terry Shaw has been appointed division president and Brad Waline and Brad London have each been named senior vice president of the division. Collectively, Shaw, Waline and London bring 37 years of related underwriting experience to Berkley Agribusiness Risk Specialists.
Berkley Agribusiness Risk Specialists will use as its issuing carriers member companies of W. R. Berkley Corp.'s regional segment.
Global insurance broker Willis Group Holdings has appointed Paty Daves as managing partner of Willis HRH of greater Kansas City, effective immediately.
He will report to William Creedon, national partner, South Central region.
Daves will lead Willis's retail operation in the greater Kansas City area, directing the efforts of Willis HRH offices in Overland Park, Lawre maintaining Willis's high client service, growth in revenue, profitability and market share.
Daves brings 20 years of risk management and property/casualty insurance experience to his new position. He previously served as president of HRH of Savannah, Georgia, since 2004, responsible for the strategic direction of the office, including business development and client focus. Earlier, Daves was vice president of HRH of Alabama.
Willis acquired Hilb Rogal & Hobbs (HRH) in October 2008, and renamed its North American retail brokerage business Willis HRH.
From This Issue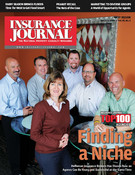 Hospitality Risks Directory; Homeowners and Auto/Antiques and Collectibles; Long-Haul Trucking/ Energy/Oil & Gas