Richard G. "Dick" Clarke, senior vice president of J. Smith Lanier & Co. in West Point, Ga., has been elected 2009 president of RiskProNet International, a network of 25 independent insurance brokers in North America.
Clarke is a veteran of the insurance industry, having been a broker, consultant, underwriter and insurance buyer. He is a frequent contributor to various publications and teaches in the Certified Insurance Counselors Program and workshops offered by the Chartered Property Casualty Underwriters Society. He is the author of "Decoding Executive Liability Insurance," now in its fourth edition.
RiskProNet partners in 2008 had combined revenues in excess of $688 million and more than $6.5 billion in written premium. Each partner is an equal owner in the association. In addition to J. Smith Lanier & Co., RiskProNet members are AH&T Insurance, Virginia; Associated Financial Group, Minnesota; BFL Canada, Canada; Brady, Chapman, Holland & Associates, Texas; Dawson Companies, Ohio; Eustis Insurance & Benefits, Louisiana; Gateway Insurance Agency, Inc., Florida; Herbert L. Jamison Company, New Jersey; J.W. Terrill, Inc., Missouri; Johnson, Kendall & Johnson, Inc., Pennsylvania; Lawley, New York; Litchfield Insurance Group, Connecticut; M3 Insurance Solutions for Business, Wisconsin; Mazonson LLC, Massachusetts; Mesirow Financial, Illinois; Old National Insurance, Indianapolis; Rebsamen Insurance, Arkansas; Reynolds & Reynolds, Iowa; Sterling & Sterling, Inc., New York; SullivanCurtisMonroe Insurance Services, LLC, California; Tanner Companies, LLC, California; Waldman Bros., LLP, Texas; Watson Insurance, North Carolina; and Wick Pilcher Insurance, Inc., Arizona.
Harden & Associates in Jacksonville, Florida recently named Jennifer Retamar and Shaun Woleshin as vice presidents. Retamar is an Employee Benefits account executive in the Jacksonville office and Woleshin is a Commercial Insurance account director in Harden's Fernandina affiliate, John T. Ferreira Insurance.
Prior to joining Harden, Retamar was an assistant vice president and senior consultant with a large national broker. Woleshin joined John T. Ferreira Insurance in 1999 and since then he has been assisting commercial clients.
Kate Westover, vice president of Alternative Risk Financing at Innovative Captive Strategies, has received the 2009 Distinguished Service Award from the Captive Insurance Companies Association (CICA). Based in Colchester, Vermont, Westover has 20 years experience in the captive insurance industry and has published two books on the subject. At ICS, she consults on captives. Innovative Captive Strategies, based in West Des Moines, Iowa, specializes in captive insurance and alternative risk management.
Brian Deitz has been named partner at the industry advisor Reagan Consulting, announced CEO Robert Reagan.
Deitz joined the Atlanta-based insurance agency consulting firm in 2006 and has focused on agency/broker mergers, acquisitions and valuations. Prior to joining Reagan, Deitz spent four years working in mergers and acquisitions for The Home Depot, leading valuation exercises and due diligence processes. Prior to that position, he worked in investment banking for Deutsche Banc Alex. Brown in Baltimore.
Jeremy Borak has joined Tanner, Ballew and Maloof Inc. in Atlanta as vice president and account executive. He will be involved with the development and servicing of new risk management and insurance clients for the insurance firm. Borak had previously been a senior vice president with CBIZ in its Atlanta Property and Casualty branch and prior to that, with A.J. Gallagher.
Stockbridge, Georgia-based wholesale insurance broker Gresham & Associates has welcomed a new property/casualty broker, Scott Griffin, to its Orlando, Florida branch. Griffin, a University of Georgia-Risk Management School Graduate, began his insurance career in 1987 and has worked as a wholesaler since 2000. His experience includes work with Travelers, Hartford Steam Boiler and, most recently, as a broker in the Tampa area.
Hiscox is now offering inland marine insurance to the U.S. market and has hired Steve Silverman to lead this initiative. Hiscox said it will be underwriting both individual risks inland marine risks and programs.
Silverman, vice president, joined Hiscox from American International Group's Lexington Insurance, where he was most recently assistant vice president and product line manager for Inland Marine and Specialty Property business in the U.S. and Canada. Prior to joining Lexington, Silverman spent most of his career with Aetna Casualty & Surety.
He is joined by Randi Glazer, assistant vice president, who joins Hiscox from the Fireman's Fund Insurance Co., where she was the Inland Marine manager for the New York region. Glazer has held positions with CNA, Chubb, Swiss Re America and the Catlin Group.
Willis HRH, the North American business of Willis Group Holdings, reported that David Finnis has been named executive vice president and national property practice leader. Finnis, who joins Willis HRH from Integro Insurance Brokers, will report to Leslie Nylund, chief placement officer for North America and a national partner for Willis HRH. He will be based in Atlanta. Finnis will lead the company's property practice in North America, including its property placement operations in London and Bermuda.
Finnis has 25 years of experience with property insurance programs for Fortune 1000 clients. Prior to joining Willis HRH, he was at Integro. He joined Integro in 2005 after serving as director, Southeast Property, for Aon in Atlanta from 1996. Earlier, he was at Johnson & Higgins and Marsh & McLennan, both in New York.
From This Issue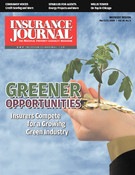 HOT New Markets and Programs; GREEN Risks; Corporate Profiles