The Insurance Brokers and Agents of the West (IBA West) installed the association's new officers and directors. The following will serve in 2009: President Richard E. Dinger of Crescenta Valley Insurance, who is the association's youngest president; President-Elect: Kevin M. Baker of Suhr Risk Services of California Insurance Brokers; Secretary-Treasurer: Timothy R. Manaka Jr. of FIA Insurance Services Inc., IIABA State National Director: Andrew J. Valdivia of White & Co. Insurance Inc.
Elected to the IBA West Board of Directors were: Northern California Regional Director Irene M. Sabourin of John O. Bronson Co. Inc.; Southern California Regional Director Jeffrey F. Lang of Wells Fargo of California Insurance Services Inc.; At Large Director Melissa A. Phillipp of Phillipp & Associates Insurance Services Inc.; and Associate Member Director Pete Thrasher of Swett & Crawford.
Additionally, IBA West presented the Ramsden/Sullivan Memorial Award to James T. Armitage. The award recognizes an individual who exemplifies the highest caliber of service to the American agency system, the insurance industry and the community.
Armitage is vice president of Arroyo Insurance Services Inc., a firm he founded in 1986 and is located in Arcadia, Calif. He began his career in insurance as a commercial casualty underwriter and marketing representative with Aetna Casualty and Surety Co. In 1981 he joined Carr, Beedle, Hastings and Dennis.
Kathleen Haskell and Christopher Smyth joined Venture Insurance Programs' Preferred Club Program's team of underwriters. In their new positions, Haskell and Smyth will write new business and renewals, market and sell Preferred Club products and services, as well as maintain relationships with carrier and broker partners.
Haskell most recently served as a senior underwriter for AIG Specialty Excess. She has also held previous positions with Patriot Underwriting Managers, Commonwealth Risk Services and Marsh & McLennan Inc.
Smyth most recently served as underwriter at C&R Insurance Services, where he generated new business with a focus on lawyers' professional liability.
Willis HRH, the North American retail division of Willis Group Holdings, named Mike Phillips regional growth leader for its South Central Region and David Hofele regional growth leader for its West Region.
Phillips and Hofele join a team responsible for enhancing client retention, expanding existing relationships, driving cross-selling strategies, supporting and growing the Willis Client Advocate program, and generating new business.
Phillips was formerly production team leader for HRH of Colorado. He has also held positions with Zurich and Liberty Mutual.
Hofele previously served as president of HRH's Bay Area and Northern California offices. Prior to joining HRH, he held positions with Palmer & Cay Inc., a privately held insurance broker, and with the law firm of Suelthaus & Walsh, in St. Louis, Mo.
The company also made a series of senior leadership appointments in its retail brokerage business, in connection with its merger of Willis and Hilb Rogal & Hobbs (HRH) last year.
Tom Coughlin was promoted to national partner for Willis HRH, and will assume responsibility for captives, enterprise and risk finance, claims and risk control, pooling, programs and the private client segment. Coughlin, who joined the Willis New York operations in 1989, was formerly director of marketing for Willis North America.
Tom Ealy was named national partner in charge of the commercial segment for Willis HRH, a business serving small and medium enterprises that represents more than 75 percent of Willis HRH's combined clientele in North America.
Leslie Nylund, who formerly led Willis' New York Metro Region, was appointed chief placement officer and national partner for Willis HRH, in charge of the company's North America, London and Bermuda carrier relationships and placement strategy development.
Succeeding Nylund as head of Willis' New York Metro Region is Todd Jones, who also will oversee the company's retail brokerage businesses in New Jersey, southern Connecticut, upstate New York (Buffalo), eastern Pennsylvania (Philadelphia) and Delaware.
Property/casualty insurance company Zenith National Insurance Corp. said board member Leon Panetta resigned to become director of the U.S. Central Intelligence Agency. President Barack Obama chose Panetta, a former chief of staff to President Bill Clinton and a former Democratic congressman from California, to head the agency.
Panetta had served as a member of Zenith's audit committee and its nominating and corporate governance committee.
Zenith named Jerome L. Coben, a partner at Zeughauser Group, as Panetta's replacement. Coben will serve on the audit committee and the health care committee.
San Diego-based Cavignac & Associates appointed Amanda Hatcher director of first impressions, responsible for ensuring that client visits run smoothly, answering client requests and performing various office duties, among other tasks.
Before joining Cavignac & Associates, Hatcher served for two years as a health coach for American Specialty Health in San Diego.
From This Issue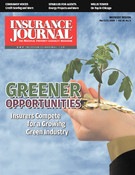 HOT New Markets and Programs; GREEN Risks; Corporate Profiles