Former AIG Chief Executive Officer Martin Sullivan, who was ousted three months before the U.S. government bailed the insurer out, is joining Willis Group Holdings PLC.
Sullivan will head a new unit – Willis Global Solutions– that will oversee brokerage and risk management advisory services for multinational and global accounts for Willis. He will also be deputy chairman of the company, reporting to CEO Joe Plumeri.
Willis Global Solutions will be a unit of Willis Global, the chairman and CEO of which will be Grahame Millwater. Willis Global will encompass Willis Global Solutions, and will also include Willis Re, Willis Global Specialties, Willis Global Markets, Willis Global Placement, Willis Facultative Reinsurance, Willis Capital Markets & Advisory, Willis Analytics and Faber & Dumas.
Sullivan began his career in insurance in 1970 and joined AIU, the non-life UK company of American International Group (AIG), in 1971. In 1993, he was named president of AIU's UK/Ireland Division and managing director of AIG Europe (UK) Ltd. In 1996 he was appointed chief operating officer of AIU in New York and named president in 1997. He was elected to the board of AIG in May 2002. He served as CEO of AIG from 2005 to 2008.
Jerry Williams has been appointed assistant vice president of business development for CNA. In this role, Williams will build organizational sales discipline and competency, and stronger engagement with its producers. He will be located in CNA's Atlanta branch and will support CNA operations in Georgia, North Carolina and South Carolina. Williams joins CNA with 20 years of experience. He began his career as a commercial underwriter and progressed into roles of increasing responsibility with various insurance organizations. Most recently, he served as regional vice president of business development for Harleysville Insurance in its Southeast region.
Eastern Insurance Holdings said founder and CEO Bruce M. Eckert will step down at the end of the year and President and Chief Operating Officer Michael L. Boguski will assume the top executive for the role of president and chief executive officer of the Pennsylvania-based workers' compensation insurer. Boguski was the first employee hired by the Eckert, and the two have worked closely the last 13 years. Eastern Insurance has service offices in Pennsylvania, North Carolina, Indiana and Tennessee.
K&K Insurance named Todd Bixler as president and CEO. Bixler joined K&K Insurance in 1986 as controller, responsible for financial reporting and accounting operations. His subsequent positions with K&K included chief financial officer, chief administrative officer and executive vice president and chief operating officer. K&K Insurance Group Inc., a division of Aon Underwriting Managers, is a managing general underwriter offering insurance to the sports, leisure and entertainment industries.
Markel Corp. has promoted John Latham to president, wholesale division, and Steve Girard to executive vice president, southeast regional operations.
Latham will continue to oversee Markel's regional offices located in Virginia, Texas, Arizona, California, Illinois and New Jersey. He has 43 years of experience in the insurance industry, and most recently he served as managing director, regional wholesale operations, and he has also led the Southeast region's operations since 2008. He has been with Markel for the past seven years. Prior to joining Markel, Latham was president and chief executive of Colony Insurance Companies.
Girard will oversee the Southeast regional operation, which is headquartered in Richmond, Va. He joined Markel in 2008 as managing director of production and underwriting, southeast region. Prior to joining Markel,
was senior vice president, branch manager for Willis Re in Atlanta for six years. His prior experience also includes time at Berkley Underwriting Partners.
From This Issue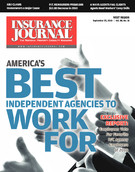 Professional Liability Directory; The Best Insurance Agencies to Work For; Employment/HR Issue