Integro Insurance Brokers has named Jacquelyn Neal as a principal in the marine practice. Neal is based in the San Francisco, Calif., office.
She will manage a book of existing marine clients and develop new cargo and marine liability business.
Neal has more than 30 years of industry experience, most recently as senior account manager at Woodruff Sawyer & Co. She was previously with Lockton Insurance Brokers, and Marsh Risk & Insurance Services.
Integro is an international insurance brokerage and risk management firm.
San Francisco, Calif.-based Woodruff-Sawyer & Co. has named Drew Johnston vice president of aviation.
Johnston will steer the growth of the newly formed aviation practice, which will focus on insurance and risk management solutions for the aviation industry and provide risk consulting to clients who face aviation exposures from emerging technologies such as drones.
He has more 20 years of experience in the aviation industry. He began his career in the U.S. Navy in 1994, before entering the insurance business in 1999. Prior to joining Woodruff-Sawyer, he was aviation practice leader for IMA Financial Group. He was an aviation insurance broker for Aon Risk Services before that.
Woodruff-Sawyer has offices throughout California, and in Oregon, Washington, Colorado, Hawaii and New England.
Atlantic Casualty Insurance Co. has named Tim Tokuda assistant vice president in business development and marketing.
Tokuda will work to develop marketing strategies and distribution channels for multiple states within the company. He will work out of the Scottsdale, Ariz., office.
In his most recent role, Tokuda was head of the marketing department at Century Insurance Group. During his time at Century, he served in both an underwriting and marketing capacity holding several different positions within the organization. He was also part of the Berkley organization in Scottsdale at Berkley Regional Specialty Insurance Group (now Berkley Aspire), where he oversaw field operations.
Tokuda began his insurance career as a multi-line underwriter for Selective Insurance in 2000.
Atlantic Casualty is a provider of excess and surplus lines property/casualty insurance. The firm has offices in Goldsboro, N.C., Glastonbury, Conn., And Scottsdale.
CAL Insurance & Associates Inc. has named Aletha Coffey an account manager on its commercial lines team.
Coffey was previously a commercial account executive with GS Insurance Solutions. She was a marketing representative for BizInsure before that.
CAL Insurance is an independent insurance agency based in San Francisco.
Leavitt Group of Boise, Idaho, has named Rosie Esper as a personal insurance agent.
Esper focuses on home and auto insurance for families and individuals.
Esper has been in the insurance industry since 2012 and has 12 years of experience in sales and management. She was previously with Field Waldo Insurance Agencies.
Leavitt Group of Boise is part of Leavitt Group, a privately held insurance brokerage.
The Buckner Co. has named Lance Butler president of Colorado operations.
Butler will be responsible for managing the top line growth and operations in the state.
Butler has more than 25 years of experience in large commercial accounts.
Buckner reports placing more than $200 million of insurance premiums through its five offices in Utah, Idaho and Colorado.
Marsh & McLennan Insurance Agency has promoted eight executives to principals of the firm.
In San Diego, the new principals are Donna DeBolt, Wayne Pages, Greg Pendergast, Erin Quigley, Jeff Simpson, Ryan Stover, and Chris Wilson. In MMA's Anchorage office, Jennifer Meyhoff was also named principal.
DeBolt joined the firm in 2003 and works in MMA's commercial property/casualty division. She has more than 40 years of industry experience and works primarily with technology and life science companies. DeBolt is also a member of MMA's multinational practice and serves as the Western region coordinator.
Meyhoff joined the firm in 2004 and leads the employee benefits division in MMA's Anchorage, Alaska office. She has more than 25 years of industry experience and works with companies on health and welfare, compensation and retirement services.
Pages joined the firm in 2007 and is director of actuarial and underwriting services. He has 22 years of employee benefits experience and works with clients to analyze claims trends and forecast healthcare costs.
Pendergast joined the firm in 2003 and is a client executive in MMA's commercial property/casualty division. He works with companies to develop risk management solutions and has extensive experience working with firms of all sizes.
Quigley joined the firm in 2007 and is director of corporate communications. Quigley directs the firm's corporate communications and marketing strategy for MMA's West region. She is also responsible for media relations, branding strategy and special projects for the Barney & Barney Foundation. Quigley has more than 12 years of industry experience.
Simpson joined the firm in 2008 and is a client executive in the property/casualty division. He has more than 13 years of experience.
Stover joined the firm in 2009 and is a client executive in retirement services. He has more than 20 years of experience and helps lead the retirement services division.
Wilson joined the firm in 2012 and is a Client executive in the employee benefits division. He develops employee benefit solutions for middle market companies and has more than 12 years of industry experience.
MMA is an insurance brokerage offering a risk management and employee benefit solutions.
Vital Insurance Partners has named Meg Matlach vice president of product development.
Matlach, who will be based in Phoenix, Ariz., will be responsible for product development and program enhancement within the specialty insurance marketplace. She will work with program administrators, managing general agents/underwriters, and insurance carriers to bring new product to market.
Matlach has held a variety of positions throughout her 35-year career. Prior positions include executive level and senior underwriting and product positions with QBE North America, Allianz/Fireman's Fund, Arrowhead General Insurance Agency, CNA Excess & Select, F.B. Beattie/Safeco and Sentry Insurance.
Vital Insurance Partners is a privately held insurance intermediary and consulting firm.
HUB International of California has named Lynn Greene vice president of the employee benefits practice.
Greene's primary role will be the design, placement, and maintenance of healthcare programs and human resource solutions for mid-market and large companies.
Greene has more than 25 years of experience working with employer group clients. Greene was most recently an assistant vice president and employee benefits consultant and client advocate for Woodruff-Sawyer. Prior industry experience includes positions with Athens Benefits Insurance Services and Putnam, Knudsen and Weiking.
Chicago, Ill.-based Hub is an insurance brokerage that provides property/casualty, life and health, employee benefits, investment, and risk management products and services.
Worldwide Facilities has opened a new location in Palm Springs, Calif., and has added David Senescu in the office as senior vice president.
Senescu's area of expertise includes construction, environmental, hospitality, product liability and real estate.
Senescu was previously with Keating. He began his insurance career as a retail agent before transitioning to the wholesale market. Senescu is a U.S. Navy veteran and was a commercial pilot with Comair Airlines before his insurance career.
Worldwide Facilities is a national wholesale insurance broker and managing general agent.
PEMCO Insurance has added Curt Simonson to the carrier's people and brand team as the department's learning and development manager.
Simonson's responsibilities include managing employee training programs and leadership development strategies.
He has more than 30 years of training and development experience.
Prior to joining PEMCO, Simonson was a strategy consultant at Spider Strategies, a software company.
PEMCO is a Washington-based carrier providing auto, home and boat insurance.
The Oregon State Senate has confirmed Cameron Smith as director for the Department of Consumer and Business Services.
Smith has served as acting director for the department since Gov. Kate Brown nominated him in December 2017.
Smith previously was director of the Oregon Department of Veterans' Affairs, and a senior policy advisor to both Gov. John Kitzhaber and Gov. Ted Kulongoski.
In one of his first official decisions as director, Smith appointed Andrew Stolfi as the state's insurance commissioner. Stolfi joined the department in February to serve as the administrator for the Division of Financial Regulation.
Stolfi spent six years in Switzerland at the International Association of Insurance Supervisors, most recently serving as chief operating officer and chief counsel. Before joining the association, Stolfi served in senior management roles at the Illinois Department of Insurance.
Cannasure Insurance Services has hired Kieran O'Rourke to lead its managing general agency underwriting platform.
O'Rourke has more than 20 years property/casualty underwriting and senior management experience.
Prior to joining Cannasure, O'Rourke was assistant vice president of property underwriting of AmTrust Financial Services Inc.
Cannasure is a Cleveland, Ohio-based managing general agent and wholesale broker specializing in cannabis insurance. The firm offers products including general liability, product liability, auto, workers' compensation, inland marine, directors and officers, employment liability and professional liability.
From This Issue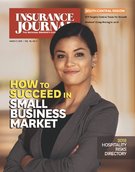 How to Succeed in Small Business Market; Directory: Hospitality Risks; Markets: Homeowners & Auto, Business Interruption