Massachusetts Attorney General Martha Coakley is opposing a recently proposed home insurance rate request for 150,000 consumers, calling it illegally excessive.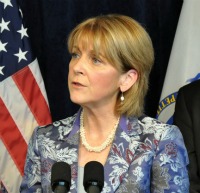 She made her remarks during her testimony before the commissioner of insurance last week. The rate hikes are proposed by the Massachusetts Property Insurance Underwriters Association (FAIR Plan), which consists of the state's insurance companies. It is designed to provide coverage at reasonable rates to consumers who cannot obtain it in the open marketplace. This includes about 60,000 families on Cape Cod and other coastal areas where insurers are shedding business.
It is a legal requirement that rates through the FAIR Plan cannot be excessive, Coakley said.
"The FAIR Plan is a crucial service for homeowners who are unable to find insurance coverage, and it is our job to make sure its rates are not excessive," Coakley said. "We will continue to fight on behalf of homeowners to protect their right to affordable coverage."
The insurance industry is seeking the commissioner's permission to raise rates for the FAIR Plan by an average of 7.4 percent across the state and by 10 percent in New Bedford, Fall River, Quincy, Lawrence, Brockton, Lynn, and parts of Boston. Homeowners on Cape Cod face a 6.7 percent rate hike under the industry proposal.
The increases include a "profit-provision" add-on that alone equates to $15 million of additional annual profit, according to Coakley. Between fiscal years 2007 and 2011, the FAIR Plan's profit totaled more than $200 million.
AG Criticizes 'Undisclosed Hurricane Models'
The attorney general also argued that the proposed rate hike is largely based on "undisclosed hurricane models" that insurers claim predict the likelihood and damage of a major hurricane hitting Massachusetts. The rates also include significant amounts for reinsurance, under which the FAIR Plan pays to pass along its risk to other insurers, without providing justification for the projected costs of this coverage.
The attorney general said her office will be litigating to block the proposed rate increases.
Was this article valuable?
Here are more articles you may enjoy.