Federal aid to victims of the historic flooding that struck eastern Pennsylvania last year has topped the half-billion-dollar mark.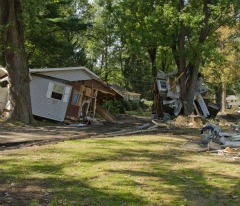 In an update on the aftermath of floods from Hurricane Irene and Tropical Storm Lee, the Federal Emergency Management Agency said Wednesday that payments to families, businesses and communities now total more than $550 million.
FEMA spokesman Mike Wade said the counties receiving the biggest payments are Luzerne at $39 million, Philadelphia at $34 million, Dauphin at $27 million, Bradford at $20 million and Lebanon at $18 million.
The back-to-back disasters in August and September killed 18 people and damaged or destroyed tens of thousands of homes and businesses.
Pennsylvania Emergency Management Agency spokeswoman Ruth Miller says the state government expects to receive as much as $65 million for hazard-mitigation projects.
Copyright 2021 Associated Press. All rights reserved. This material may not be published, broadcast, rewritten or redistributed.
Topics Flood Pennsylvania
Was this article valuable?
Here are more articles you may enjoy.