Broome County Executive Debbie Preston in New York recently hosted an open house to help local residents who are still suffering from last year's flooding.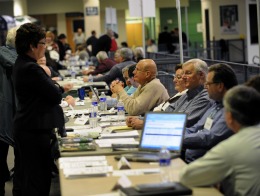 The event was held at the Binghamton University campus, State University of New York, on March 27. The open house brought together experts to offer advice on a range of services. Topics included refinancing, flood insurance, building codes, consumer protection, mold/toxins/water issues and historic preservation.
Representatives from the Federal Emergency Management Agency were also at the event to offer their advice and consultation.
The open house drew over 100 people, many of whom are still struggling with financial woes and damaged homes more than six months after the flooding, according to media reports.
Local authorities said some residents in the area had no flood insurance and are struggling to repair their homes. Some are also hoping that their homes could be bought out as part of the government's flood remediation programs. More than 300 homes in Broome County could be considered for federal and state government buyout programs.
Was this article valuable?
Here are more articles you may enjoy.