Gov. Andrew Cuomo issued an executive order Thursday to establish a statewide health insurance exchange intended to reduce coverage costs for individuals, small businesses and local governments.
The New York Health Benefit Exchange, a federally authorized and financed marketplace for buyers, is also aimed at including more than a million New Yorkers now without coverage.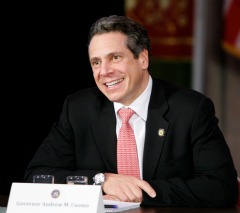 "The sky-high cost of insurance in New York is driving businesses out of the state and preventing lower income New Yorkers from being able to afford needed coverage," Cuomo said. "Establishing the health exchange will bring true competition into the health care marketplace, driving costs down across the state."
According to the order, individuals and small businesses purchasing coverage through the exchange can tap up to $2.6 billion in federal tax credits and subsidies. Its deadline to start operating is Jan. 1, 2014. The state is required to show by next January that it will be ready to begin taking applications by the following October.
The executive order allows for regional advisory committees to be involved in the exchange's establishment and operation. The panels would include consumer advocates, small business representatives, health care providers, agents, brokers, insurers and labor organizations, as well as public comment.
The American Cancer Society said an estimated 10,000 uninsured cancer patients across New York "are waiting for relief in the form of a health insurance exchange."
AARP said the exchange has the potential to help the 50-to-64-year-old population in New York, including about 337,000 who are uninsured.
Part of the Obama administration's health care plan, the exchanges have been a major campaign target for Republicans in the presidential race.
The New York Senate's Republican majority didn't include a health exchange in its budget proposal, saying more study was required. Cuomo and the Assembly Democrats favored the plan to create a kind of one-stop supermarket for health care to insure more Americans, but it was left out of the state budget.
Senate Republican spokesman Scott Reif declined to comment Thursday.
Republican Sen. Greg Ball from Putnam County said, "Any rush towards enacting Obamacare is more political than reality." He said the federal funding has "strings" and the program will ultimately cost New York taxpayers money.
If the state didn't approve a health exchange with federal funds, the Obama administration would have created one.
Copyright 2021 Associated Press. All rights reserved. This material may not be published, broadcast, rewritten or redistributed.
Was this article valuable?
Here are more articles you may enjoy.