A new report says 58 Massachusetts workers were killed on the job in 2011, at an average of 1.1 worker death each week.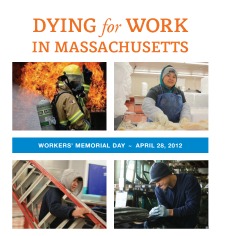 The report, titled "Dying for Work in Massachusetts," was published last week by the Massachusetts AFL-CIO and the Massachusetts Coalition for Occupation Safety and Health (MassCOSH). It highlights several issues of growing concern:
• Falls caused more than one-fifth (12 out of 58) of all occupational fatalities in Massachusetts in 2011. Five of the 12 falls occurred in the construction industry.
• Motor Vehicle Incidents accounted for 12 occupational fatalities. Half of the incidents involved a truck or auto crash. In the other six incidents, a worker was struck or crushed by a vehicle.
• Workplace violence continues to be a major work hazard, responsible for the deaths of six workers who were killed during the performance of their work in 2011. Examples of workplace homicide in Massachusetts include that of Stephanie Moulton, 25, an assistant manager at a North Suffolk Mental Health residential home, who was abducted and killed by a client while at work on Jan. 20, 2011.
• Massachusetts public workers remain outside the jurisdiction of OSHA protections. Massachusetts remains one of only five states whose public employees are not covered by OSHA or similar agency protections.
'Preventable Accidents'
"What's most distressing about the findings in 'Dying for Work' is the number of preventable accidents that are claiming the lives of so many hard working men and women every year," said the report's co-author Marcy Goldstein-Gelb, executive director of MassCOSH.
"More disturbing still is that many of these accidents are similar to the accidents that killed workers the year before, and the year before that. It's grossly negligent to put employees in harm's way without ensuring that essential safety measures are in place."
580 Workers Died From Occupational Diseases
The report also says it's not just accidents that are taking workers' lives.
In 2011, the report estimates 580 workers died in Massachusetts from occupational diseases and 1,800 workers were diagnosed with cancers caused by workplace exposures.
Massachusetts AFL-CIO and MassCOSH are calling for more regulations on both the state and federal level.
The groups say improvements are needed in areas including protections for public employees, protection for immigrant workers, Massachusetts Workers' Compensation, and comprehensive workplace safety programs. The report also calls for the passage of critical state legislation including:
• 'Temporary Worker Right to Know Bill (formerly House Bill 1393) which will require temporary employment agencies to provide written notice of key details of job assignments including: the worksite employer, job wages, the right to workers' compensation, as well as a receipt for any charges paid by the applicant.
• Pass bills to protect human service workers from violence including 1) 'An Act to Promote the Public Health through Workplace Safety for Social Workers,' (House Bill 592, Senate bill 1206) which would require employers of social workers and human service providers to create safety plans for their workplaces and perform annual risk assessments relative to factors which may put social workers at risk of workplace assault. 2) Stephanie's Law (S2006) which would provide human service workers with mobile alert devices to be able to call for help when working alone.
The full report can be viewed on the Massachusetts AFL-CIO's website.
Was this article valuable?
Here are more articles you may enjoy.