New York City's Office of Emergency Management has published a new edition of its hurricane guide.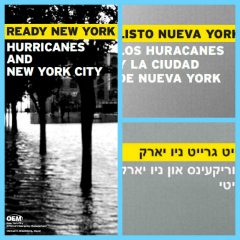 Titled "Ready New York: Hurricanes and New York City," the guide offers general tips on how to prepare for any emergency, instructions on how to develop a hurricane disaster plan and secure one's home before a storm, and a map of New York City hurricane evacuation zones.

The new edition, available in 11 different languages, can be downloaded for free from the city's official website. It's also available in an audio format.

The 2012 Atlantic hurricane season officially gets underway tomorrow, June 1.
Last August, many New York City residents suffered property damage from flooding when Tropical Storm Irene hit the East Coast.
So far, forecasters are predicting a quieter-than-usual North Atlantic hurricane season. The National Oceanic and Atmospheric Administration is currently predicting nine to 15 tropical storms, with four to eight of them strengthening into hurricanes. Up to three of these hurricanes could grow into major hurricanes of Category 3 or higher.
Was this article valuable?
Here are more articles you may enjoy.