A year after a tornado downed its steeple, The First Church of Monson Congregational in Monson, Mass., is rebounding.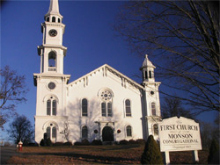 The town's oldest church became a disaster relief center after the June 1, 2011 storm that destroyed 40 homes in Monson and left three people dead across Massachusetts.

Church officials served 30,000 meals to tornado victims, also using Sunday school classrooms to give out free clothing and household supplies. The steeple still awaits a $2 million repair, but insurance will cover it. Construction should start in July and finish by Christmas.

Pastor Bob Marrone says the 250-year-old church will host an ecumenical service on Saturday, June 2, with pastors from nearby churches, just like last year.
Copyright 2020 Associated Press. All rights reserved. This material may not be published, broadcast, rewritten or redistributed.
Was this article valuable?
Here are more articles you may enjoy.