Tornadoes swept through several counties in Virginia, Pennsylvania and Maryland last Friday, knocking down trees and power lines and damaging dozens of structures and homes. Here are the latest reports from The Associated Press.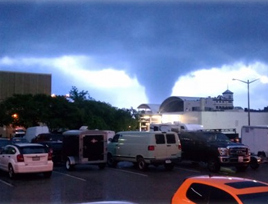 Officials in Hampton, Virginia, say a tornado that swept through the city caused more than $4.3 million in damages.

No serious injuries were reported on Saturday a day after the tornado struck.

Hampton emergency officials say the areas hardest hit by the storm include the downtown area and the neighborhoods of Merrimac Shores and Park Place. Strong winds knocked down trees and power lines, blew out windows and scattered debris. More than 200 single-family homes were damaged in the storm, which had winds reaching 98 miles per hour.

Police are urging people to stay away from affected areas unless they live there.
Weather Service Confirms EF-1 Tornado in Pennsylvania
The National Weather Service has confirmed that it was a tornado that damaged more than two dozen structures in western Pennsylvania.
Officials said Saturday that the EF-1 tornado touched down at about 5:25 p.m. Friday near Ligonier in Westmoreland County about 50 miles southwest of Pittsburgh.
They said the storm was packing maximum winds of 105 mph and traveled a path up to 300 yards wide for about eight miles.
The weather service says preliminary information is that 27 structures, 14 mobile homes and two businesses were damaged. High winds tore the roof off one home. No injuries were reported.
Forecasters said the tornado is the 37th to affect Westmoreland County since 1800 — which ties the county with Crawford County for having had the most tornadoes in Pennsylvania.
National Weather Service Confirms 9 Maryland Tornadoes
The National Weather Service has confirmed that at least nine tornadoes touched down in Maryland.
The weather service confirmed Sunday that nine tornadoes touched down in six counties across the state during a powerful storm Friday. Meteorologist Kevin Witt says surveys of other sites will continue and full results may be available later this week.
Witt says five tornadoes — three in Montgomery County, one in Prince George's County and one in Carroll County — were classified as EF0 with estimated wind speeds of 65 mph to 85 mph. He says two stronger EF1 tornadoes were confirmed in Harford and Howard counties with estimated wind speeds of 86 mph to 110 mph.
Two more tornados were confirmed in Anne Arundel and Carroll counties, but they haven't yet been classified.
Copyright 2021 Associated Press. All rights reserved. This material may not be published, broadcast, rewritten or redistributed.
Was this article valuable?
Here are more articles you may enjoy.