Six years ago, Lorena Martinez arrived in Hartford, Conn., seeking opportunity. A native of Peru, able to speak little English, Martinez found employment with a local hotel. While there, Martinez quickly realized the barriers she faced in getting ahead without broader language skills — and a college education.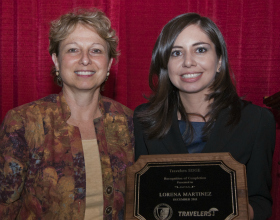 Motivated and undeterred, Martinez sought opportunities to learn English. While enrolled in an ESL course, Martinez inquired about Capital Community College's Crossroads to Careers (C3) Program, a partner of Travelers' education initiative, Travelers EDGE (Empowering Dreams for Graduation and Employment).

This partnership became Martinez's entrée into the insurance and financial services world, ultimately leading to a position in Travelers' highly competitive Underwriting Professional Development Program.

"I remember telling a friend that I wish I'd be given an opportunity, because I knew if I knew I had one, I could succeed," said Martinez, whose first language is Spanish and now speaks English fluently.

"Today, my peers and I celebrated not only our graduation from the Travelers EDGE program, but also the opportunities and success that Travelers has afforded us. Like the other students, I realized I could do much more and am so proud that Travelers gave me that courage and practical real-world experience to achieve my dreams."
Career Program Partners With Local Universities
Martinez spoke at the company's second annual Travelers EDGE graduation held in Hartford, Conn., in May. This year, the company recognized Connecticut and Maryland scholars who are graduating with an associate's or bachelor's degree from one of four partner institutions: University of Connecticut, Central Connecticut State University, Capital Community College, and Morgan State University.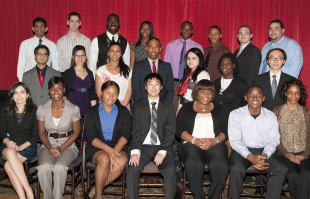 At the ceremony, Travelers also inducted for the first time 11 high school seniors into the Travelers EDGE program, extending the company's support of individual students sooner in the educational timeline.
While interning at Travelers, Martinez spent time in the company's human resources, business insurance and bond/financial products groups. Along with her peers, she was assigned an executive mentor; in Martinez's case, Diane Bengston, Travelers senior vice president of human resources, and Alexia Cruz, vice president – subrogation complex claim and major case unit.
In reflecting on her journey, Martinez recalled the critical support and advice Bengston provided. Martinez graduated in late 2011 from Central Connecticut State University and began her new position in March as an underwriting development professional in Travelers' Hunt Valley, Md., office.
Travelers vice president Bengston reiterated the company's commitment to doing right in the community: "We couldn't be more proud of Lorena and all of our Travelers EDGE Scholars. The program is an incredibly rewarding journey for all of us — students, Travelers employees, professors and others from our partner organizations — seeing their success brings the true impact of this program to light for me and all of my colleagues at Travelers."
In addition to Martinez, the following students graduated as part of the Travelers EDGE program:
• Capital Community College: Pranaya Bhattarai, Jeff DiBona, Richard Hernandez, Chia Kang "CK" Wang
• Central Connecticut State University: Cesar Delgado, Roshawn Finn, Lorena Martinez, Chadia Parnell, Jessica Ugbo
• University of Connecticut: Matthew Kim, Jason Mikesell, Aaron Oommen, Melissa Rodriguez, James Wu-Ea
• Morgan State University: Tiara Colbert, Jacqueline Snipes, Peter Sweet Jr.
Travelers EDGE is the company's signature education program that aims to increase the number of underrepresented individuals who complete a bachelor's degree and are prepared for a career at Travelers or within the IFS industry.
Source: The Travelers Companies, Travelers EDGE
Was this article valuable?
Here are more articles you may enjoy.