Federal emergency management officials say they'll demolish dozens of damaged and flood-prone properties in eastern and central Pennsylvania.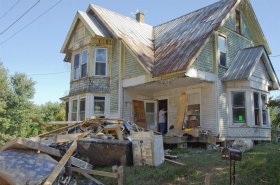 FEMA announced on Thursday, June 7, that it's spending just over $7 million to acquire 94 structures affected by historic flooding last year.

The properties lie in flood hazard areas in eight counties. They'll be torn down, returning the areas to open space in perpetuity.

Property owner participation in the program is voluntary. The structures are located in Columbia, Dauphin, Lebanon, Luzerne, Lycoming, Schuylkill, Susquehanna and Wyoming counties.

Eighteen people died and tens of thousands of homes and businesses were damaged or destroyed by Hurricane Irene and Tropical Storm Lee.
Copyright 2021 Associated Press. All rights reserved. This material may not be published, broadcast, rewritten or redistributed.
Was this article valuable?
Here are more articles you may enjoy.