The City of Bangor, Maine, announced last Friday that its new 8,000-seat multi-purpose sports and entertainment venue currently under construction will be named the Cross Insurance Center as a result of a new, long-term naming rights agreement with Cross Insurance.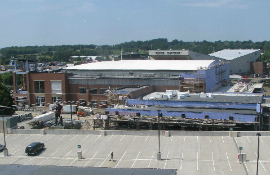 The new Cross Insurance Center is scheduled to open in the fall of 2013.

The deal between Cross Insurance and the City of Bangor is for 15 years. Under the terms of the transaction, the firm will pay $3 million to secure the naming rights for that period.

Cross Insurance, a family-owned insurance agency founded in 1954, currently has 450 employees and 27 locations across Maine, New Hampshire, and Massachusetts.

The firm offers services in commercial and personal property/liability insurance, employee benefits, financial services and surety bonds. Its corporate clients include the New England Patriots and Boston Red Sox.

"Cross Insurance is thrilled and proud to have the opportunity to partner with the City of Bangor and support the new arena and convention center by securing the naming rights to the facility," said Brent Cross, executive vice president of Cross Insurance.
Was this article valuable?
Here are more articles you may enjoy.