New Jersey Department of Banking and Insurance Acting Commissioner Ken Kobylowski conducted a seminar last week with a group of approximately 30 senior citizens at the Ironbound Senior Center in Newark. Topics discussed included life insurance, long term care insurance and reverse mortgages.
He also discussed the potential for scam artists offering these financial products and steps that senior citizens should take to avoid falling victim to them.
Acting Commissioner Kobylowski addressed the group as part of the department's first financial literacy program for senior citizens. For the last six years, the department has been conducting financial literacy presentations to high school students and discussing such things as how credit cards work, personal budgeting and the importance of savings.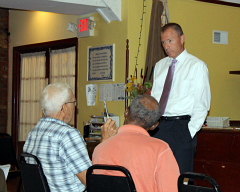 In the program for senior citizens, the department discusses issues affecting seniors including life insurance, long-term care insurance and reverse mortgages.
The program, designed by the department specifically for seniors, will continue throughout New Jersey this summer and fall, and will complement the ongoing financial literacy outreach to high school students.
"There are a variety of financial products, both banking and insurance related, that are designed specifically for older consumers. To properly manage many of these products, one needs to understand what they are and how they work," Kobylowski said during last week's seminar with senior citizens.
These seminars provide an opportunity for New Jersey insurance regulators to provide information to consumers and also to directly answer questions that the public may have.
"Unfortunately though, senior citizens are the number one target for financial scams in this country," he continued. "Scammers are not looking out for your best interest. Rather, they are concerned about their best interest."
He stressed that while many financial products may initially seem complex and confusing, they can be good, manageable investments. But he did urge the audience to exercise caution in certain areas. His advice included:
• On identity theft: Seniors should be very careful with financial information and do not to provide it to a stranger over the phone.
• Regarding life insurance: If someone calls and makes an offer for a life insurance policy, take all of their information and then call the Department of Banking and Insurance or check our website to verify that they are licensed.
• For those with life insurance policies in force: Beware of people asking you to alter your life insurance policies. Similarly, consumers should be skeptical if someone urges you to switch policies.
• Regarding annuities: Only purchase them if you are 100 percent certain they are the right product for you and that you understand the way annuities work and all of the terms and conditions of the specific annuity you are purchasing.
In summation, he warned the audience to think about all offers that sound simply too good to be true.
"The old line applies, if it sounds too good to be true, it probably is," said Kobylowski. "Be careful and consult a trusted adviser, whether it is a family member or an insurance expert, before signing anything."
Was this article valuable?
Here are more articles you may enjoy.