The Kraft Sports Group in Massachusetts said this week it has named Cross Insurance, a subsidiary of Bangor, Maine-based Cross Financial Corp., as its official insurance brokerage firm.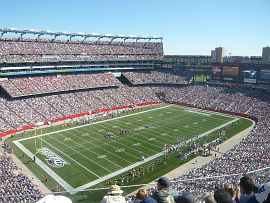 Under the deal, Cross Insurance will provide insurance brokerage and risk management services for the Kraft Sports Group's sports teams New England Patriots and New England Revolution as well as for Gillette Stadium, a multi-purpose stadium in Foxborough, Mass.

"Cross Insurance is proud to partner with the Kraft Sports Group, an organization that epitomizes a tradition of honesty and integrity," said Jonathan Cross, executive vice president of Cross Insurance.

"As we continue to grow our business in New England, we are thrilled to be associated with the Krafts and their family of nationally recognized brands. This partnership with the New England Patriots, the New England Revolution and Gillette Stadium exemplifies how two solid New England brands can create a beneficial relationship in the marketplace."

"We are proud to be partnering with Cross Insurance, a business built by three generations of the Cross family, with strong New England ties and solid business relationships," said Murray Kohl, vice president of the Kraft Sports Group. "We look forward to working with the Cross family and continuing to build on our relationship with Cross Insurance."

Founded in 1954, Cross Insurance is one of the largest insurance brokerage firms serving New England. The firm currently has 450 employees and 27 locations across Maine, New Hampshire, and Massachusetts. It offers services in commercial and personal property/liability insurance, employee benefits, financial services and surety bonds.

In April, Cross Insurance signed a multi-year partnership agreement to become the official insurance brokerage firm of the Boston Red Sox.
Was this article valuable?
Here are more articles you may enjoy.