A Schuyler, Virginia, woman convicted of selling fake insurance policies will spend more than two years in prison.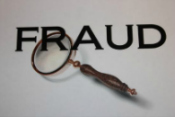 Forty-year-old Mae Anne Fattaleh also must pay more than $100,000 in restitution.

The Daily Progress reported last Friday that Fattaleh pleaded guilty in April in Charlottesville Circuit Court to obtaining money by false pretense. She was recently sentenced to 23 years in prison with all but 25 months suspended.

Virginia State Police arrested Fattaleh in 2009 after the Bureau of Insurance notified the agency that she was selling nonexistent insurance policies.

State police say Fattaleh was arrested again in 2011 while out on bond on insurance fraud-related charges. Those charges were dismissed when she pleaded guilty in the 2009 case.

Fattaleh owned two insurance firms with offices in Charlottesville, Virginia.
Copyright 2021 Associated Press. All rights reserved. This material may not be published, broadcast, rewritten or redistributed.
Topics Virginia
Was this article valuable?
Here are more articles you may enjoy.