Vermont insurance regulators are advising New England residents to get ready for Hurricane Sandy, which could hit the U.S. eastern seaboard early next week.
Regulators are reminding residents of the destruction suffered during Tropical Storm Irene in 2011. Already, Hurricane Sandy has pounded the Bahamas with strong winds, sweeping over the island chain after killing 21 people across the Caribbean.
70% Chance Hurricane Sandy Will Hit New England: Experts
Regulators say that while the National Hurricane Center predicts a storm's path only five days in advance, there is a 70 percent chance the storm will hit New England early next week with high winds, heavy rains and possibly snow. Even if this hurricane is downgraded from its current category 2 status, damage from this storm could cost millions of dollars.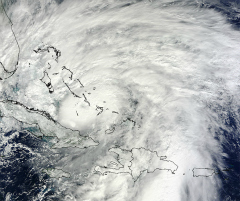 The Vermont financial regulation department's insurance division has several tips to help residents prepare for severe weather:
• Check the coverage the homeowners insurance provides, its limits and deductibles.
• Make a list of everything in the home; take pictures; and list brand names, purchase dates, model numbers, serial numbers.
• Store copies of insurance policies with the home inventory.
• Keep contact information for the insurance agent handy.
• If evacuation is needed, remember to take along insurance policies, contact information and the household inventory.
More information on the storm preparedness, as well as links to inventory forms and checklists, can be found at the Vermont financial regulation department's website.
Was this article valuable?
Here are more articles you may enjoy.