With Hurricane Sandy expected to make landfall Monday night or early Tuesday, likely in New Jersey, one insurance executive is forecasting industrywide insured losses of up to mid-single digit billions of dollars.
But this particular hurricane has several unusual features that make forecasting more challenging, and if the worst of the forecasts are realized, the insured loss figure could end up much higher.
"There are a few factors that make this a potentially significant event," said Validus Holdings CEO Ed Noonan during his company's earnings conference call Friday.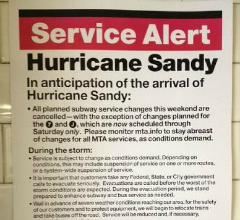 First, he said, ocean temperatures off the eastern seaboard are a few degrees above average for this time of year. And second, the lunar tide will be at its high level for the month. Also, the energy associated with the confluence of a very large storm interacting with a Canadian low pressure system could result in "extraordinary amounts of precipitation," mostly in the form of rain.
These factors suggest potentially higher storm surge and beach erosion, Noonan said. The damage potential will rise from downed trees and loss of power along the coast line — and moderate levels of wind damage, with potentially serious flooding affecting commercial risks.
Further, unlike last year's Irene, Hurricane Sandy appears to be approaching perpendicular to the shoreline along the northeast corridor, a pattern that could worsen the storm surge.
Regarding residential risk, Noonan said he expects losses to have similar attributes to Hurricane Irene — some wind damage but with much of the residential losses not covered by private insurance due to loss from flood.
"Using the best historic storm pass proxies," he said, "and in the absence of other information between now and landfall, we expect it to be measured in the low- to mid-single digit billions of insured loss."
Noonan also said that on the commercial side, there are commercial exposures concerning chemical and energy plants starting from the Delaware bay up to the New Jersey area with significant industrial installations that are located close to the shoreline. A flood could result in significant business interruption losses, he said.
Topics Profit Loss Hurricane
Was this article valuable?
Here are more articles you may enjoy.