Experts are reviewing plans to secure the arm of a crane that's been dangling off a luxury high-rise in midtown Manhattan.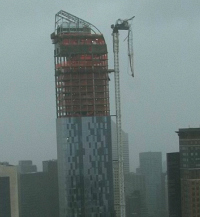 City officials said on Thursday, Nov. 1, that inspections of the crane have been completed.

Meanwhile, the city has lifted its pre-storm ban on all outdoor construction work.

Buildings Department chief spokesman Tony Sclafani has said that a strong wind gust during superstorm Sandy likely was a major factor in the crane accident.

Experts also have been examining how the crane was positioned.

Engineers climbed the 74-story building in the midst of the storm to inspect the crane.

Neighboring buildings were evacuated, including a hotel with 900 guests.
Copyright 2021 Associated Press. All rights reserved. This material may not be published, broadcast, rewritten or redistributed.
Was this article valuable?
Here are more articles you may enjoy.