The Virginia Supreme Court ruled last week that home damages that were allegedly caused by Chinese drywall are excluded from TravCo Insurance Co.'s "all risk" homeowners insurance policy.
TravCo Insurance is part of The Travelers Companies. The Virginia Supreme Court's unanimous decision was announced last Thursday, Nov. 1.
In May 2007, plaintiff Larry Ward purchased a newly constructed home located in Virginia Beach and shortly afterwards obtained a home insurance policy from TravCo. The policy was effective from May 2007 to May 2008, and was renewed through May 2010.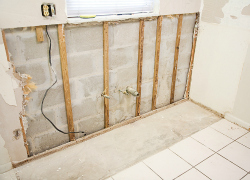 But in May 2009, Ward experienced problems with his home and hired an expert, who said that the problems were caused by sheets of drywall manufactured in China that were installed in the house during construction. Ward then sued the developer, builder and drywall contractor in the Circuit Court of the City of Norfolk, Va.
Ward alleged that the Chinese drywall in his home emitted various sulfide gases and/or toxic chemicals through "off-gassing" that created noxious odors and caused health issues, damage and corrosion. He alleged breach of contract, breach of warranties, negligence, unjust enrichment, nuisance, and other counts claiming that his home "was built with defective drywall."
According to media reports, thousands of homeowners in several states — mostly in the South — have faced similar problems associated with drywall.
In Sept. 2009, Ward sought coverage under his homeowners' insurance policy issued by TravCo Insurance for damages. He stated that the drywall caused fumes and odors, health issues, and damage to the home's air conditioning system, garage door, and flat-screen televisions.
But TravCo Insurance denied Ward's claim, alleging that the damages allegedly caused by the Chinese drywall were excluded from coverage by the terms of Ward's homeowners' policy. TravCo then brought a legal action in the U.S. District Court for the Eastern District of Virginia.
TravCo moved for summary judgment and the U.S. District Court granted the insurer's motion on the basis of policy exclusions. Ward appealed the district court's ruling to the U.S. Court of Appeals for the Fourth Circuit, which requested that the Virginia Supreme Court take the case.
The Virginia Supreme Court last Thursday held the policy unambiguously excluded Chinese drywall damages, based on four policy exclusions:
(1) latent defect;
(2) faulty, inadequate, or defective materials;
(3) rust or corrosion; and
(4) pollutants, defined to include any gaseous irritant or contaminant.
"We conclude that each of the four exclusions is unambiguous and reasonable in its form, scope and application and excludes damage resulting from the Chinese drywall from coverage," said Justice S. Bernard Goodwyn, who wrote the court's opinion. The case is TravCo Insurance Company v. Larry Ward, Record No. 120347, Supreme Court of Virginia, Nov. 1, 2012.
Topics USA Homeowners China Virginia
Was this article valuable?
Here are more articles you may enjoy.