A number of insurers have begun issuing their Sandy loss estimates in the weeks since the superstorm devastated the East Coast. The SNL Financial compiled these company-specific loss estimates in a new report this week.
United Fire Group Inc. expects net losses, after-tax, of $13 million to $19.5 million from Sandy. The company offered the estimate in its Nov. 5 filing. The insurer wrote about 10 percent of its overall business in the mid-Atlantic region in 2011, according to statutory data compiled by SNL. In addition to the impact on insurance policies, United Fire expects losses from reinsurance, forecasting about $2 million to $3 million in after-tax losses on its assumed book of business.








Sandy losses will also impact some companies based outside the U.S. and Bermuda. SNL said Australia-based QBE Insurance Group Ltd. issued a preliminary estimate on Nov. 12 of $350 million to $450 million in retained losses from Sandy.
Other insurers have provided some detail on how Sandy might affect their operations but have yet to give strict dollar ranges. SNL reported that Kingstone Cos. Inc. said Nov. 7 that pretax losses for its Kingstone Insurance Co. subsidiary, which writes in New York, will likely be capped at $750,000, based on the reinsurance program it has in place.







Additionally, Allstate Corp. said Nov. 14 that it expects more than $150 million in losses, although the number will likely go up, as $150 million is a threshold that Allstate has set for reporting.
SNL said Allstate's exposure to Sandy may be informed by its experience relative to last year's Hurricane Irene, which also affected the New York region. According to SNL, Allstate estimated about $500 million in losses from Irene when it first hit.
Statutory market share data shows Allstate as one of the leading writers of homeowners and commercial multiple peril policies in the mid-Atlantic region. Those lines are likely to feel a major impact from Sandy, although most flood damage to homes would be covered by the National Flood Insurance Program.
Other lines also could be affected, SNL said. To the extent that homeowners purchased excess flood insurance, i.e., policies not reinsured by the government, that would show up in allied lines, according to the NAIC's instructions. It is important to bear in mind that allied lines cover a variety of other risks such as explosions and riots.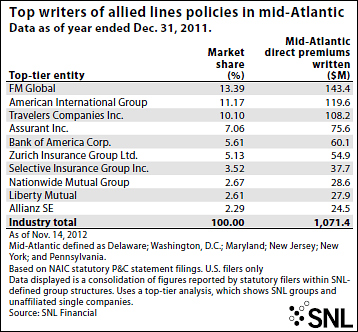 The inland marine line also may see some claims because it covers "instrumentalities of transportation and communication" such as bridges, tunnels, pipelines and power lines, according to the NAIC. But here, too, the "inland marine" bucket can be rather expansive; for instance, inland marine policies can be written for goods that are moved to different locations, such as live animals and antique collectibles.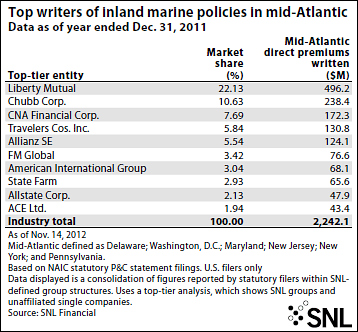 Lastly, SNL said the auto line should see some impact. Progressive Corp. gave an early glimpse of Sandy's effects on Nov. 14, when it reported its monthly results. The auto insurer incurred roughly $55 million in CAT losses during October as a result of Sandy, with New York and New Jersey accounting for nearly 80 percent of the company's total cat losses for the month.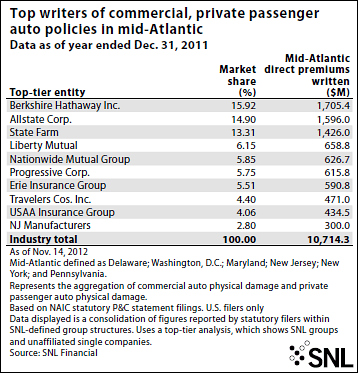 Source: SNL Financial
Topics Carriers Profit Loss
Was this article valuable?
Here are more articles you may enjoy.