New Jersey Governor Chris Christie is asking the federal government to reimburse the state for 100 percent of emergency costs for at least 90 days after Superstorm Sandy swept ashore on Oct. 29.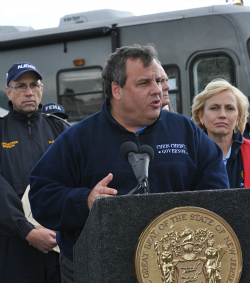 In a letter to the Federal Emergency Management Agency dated Nov. 30 and released on Monday, Christie said the economic damage from the storm could be nearly $40 billion.

FEMA generally reimburses states for 75 percent of emergency clean-up and repair costs from natural disasters. The agency can cover more, but state officials must ask for the relief.

Christie previously asked for 90 percent reimbursement.

New York Governor Andrew Cuomo asked for full reimbursement for qualifying expenses not long after the storm subsided. He has estimated that New York needs nearly $42 billion to recover from the storm and prepare for future severe weather.
The state of Connecticut is also asking for $3.2 billion for mitigation efforts, and it suffered another estimated $360 million in damages.
In New Jersey, getting money to help cover clean-up and restoration costs will be critical to making sure that the Jersey Shore, a popular summer vacation spot and a key source of revenue for the state, is up and running in time for the 2013 tourist season, Christie said in his letter.
Topics New Jersey
Was this article valuable?
Here are more articles you may enjoy.