As low temperatures sweep across the Northeast, ice dams increasingly are becoming a hazard for home and business owners alike.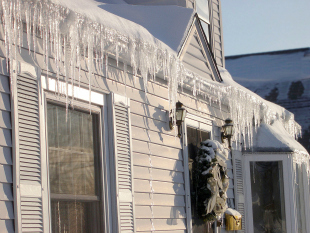 And with winter weather continuing, The Hanover Insurance Group Inc. in Worcester, Mass. is advising property owners to take action to reduce damage and avoid injury.

"Cold winter months alone can cause damage to your home or your business. But, emerging challenges, such as ice dams that form and go unattended can lead to leaks, mold and even safety hazards caused by falling ice," said Michael Billings, vice president at The Hanover's safety management team.

"While pre-season prevention works best, there are steps you can take now to avoid the potential of further damage."
Following are a few simple steps that can help home and business owners reduce damage from ice dams:
• Take preventive actions to remove ice and snow from the roof to allow proper drainage. In doing so, take precautions, such as staying on the ground and using a snow rake and consider calling a professional if it is necessary to go on the roof. Additionally, it is imperative to avoid contact with electrical lines, and to watch for falling objects.
• If there is an existing ice dam, melt a channel through the ice to the roof surface to create a drain path to relieve water build up.
An easy way to do this is to fill the leg of nylons with calcium chloride ice melter and place that on the roof. The long tube can melt a patch through the ice to allow drainage. The ice melter can be refilled or replaced to keep the channels open. Make sure the channels extend to the roof edge or gutter.
Homeowners can engage the services of an insured roofing contractor to remove ice build up and ensure they don't cause additional damage to the roof.
• When water damage is observed, hire a restoration service to dry out the walls, ceiling and structure. Minor damage can cause rot, decay and more extensive problems if it is not properly addressed.
• Contact a roofer and an insulation company to correct the ventilation and heat transfer issues in the attic. This can prevent future problems.
• When replacing a roof, add an ice and water shield membrane at the edge of the roof and extend it at least five feet up the roof to protect this area against water intrusion.
• In the future, try to prevent ice dams by ventilating and insulating the attic.
• Homeowners should contact their insurance agent immediately if there is damage to the property.
Topics Homeowners
Was this article valuable?
Here are more articles you may enjoy.