A leading New York lawmaker introduced two pieces of legislation this month to help homeowners better understand their insurance coverages and to tighten the timeframe requirements for insurers when responding to claims following catastrophes.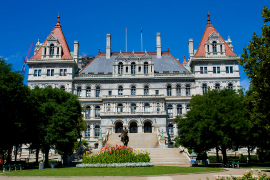 Details of the proposed legislation are as follows:

• Assembly Speaker Sheldon Silver (D-Manhattan) announced a bill (A-2287) on Jan. 11 that would — according to a statement from the N.Y. Assembly — "protect hard hit families from unscrupulous actions by insurance companies."

This "Homeowners Bill of Rights" legislation was sponsored by Assembly Speaker Silver. It requires insurers to provide property owners with an easy-to-understand disclosure notice detailing their coverage in the event of a catastrophic occurrence; how and when to file a claim; their rights if a claim is denied or a settlement offer is insufficient; and where and how to obtain coverage for catastrophic events.
The proposed legislation also directs the State Department of Financial Services to create a "Consumer's Guide on Insuring against Catastrophic Losses" and requires insurers to inform property owners where they can obtain it so they can be better educated and understand their rights.
• Speaker Silver also announced a second bill (A-1092), sponsored by Assemblyman James Skoufis (D-Woodbury), requiring insurers to promptly process claims and establish claim and settlement standards for insurers to follow when a disaster strikes.
Assemblyman Skoufis said the bill tightens the timeframe requirements for insurers to respond to claims resulting from disasters and emergencies.
Under the measure, insurance companies would be required to begin investigating these settlement claims within six days, and notify property owners within 15 days as to whether their claim has been accepted or rejected, including their right to appeal if it has been rejected. If a claim has been accepted, insurers are required to pay it within three business days.
"The tide of frustration is only rising for those who have already endured so much. How we react in moments of crisis to ease human suffering defines who we are as a people, and anything short of swift and compassionate action is unacceptable," Assembly Speaker Silver said in a statement.
"For home and business owners impacted by Sandy, wading through the complexities and limitations of their insurance policies following a catastrophic event is an unnecessary burden. Taken together, these measures will create more informed insurance buyers and help speed the recovery process for families and businesses."
In addition, Silver said he has directed the Assembly Insurance Committee to conduct a series of public hearings in the near future to further examine the response of insurers in the aftermath of Superstorm Sandy.
Topics Legislation New York Homeowners
Was this article valuable?
Here are more articles you may enjoy.