A judicial panel ruled on Feb. 12 that all suits filed against a pharmacy linked to a multi-state fungal meningitis outbreak will be heard in federal court in Massachusetts.
The U.S. Judicial Panel on Multidistrict Litigation has assigned Judge F. Dennis Saylor in Boston the more 120 suits filed against the New England Compounding Center.
The fungal meningitis outbreak, discovered in Tennessee in September, has been blamed on a steroid produced by the NECC. The outbreak has spread to 20 states, sickening more than 650 and killing 46.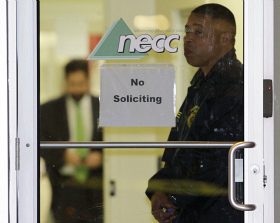 Some plaintiffs had requested the cases be centralized in Minnesota. But in its ruling, the panel said that was best done in Massachusetts, because that's where the alleged contamination occurred and the federal and state investigations into the Framingham-based NECC are focused there.
"Thus, the primary witnesses, physical evidence, and documentary evidence likely will be located in Massachusetts," the panel's ruling read. "Additionally, defendant is headquartered in Massachusetts, and defendant's bankruptcy case is pending in this district."
The NECC filed for Chapter 11 bankruptcy in December for the purpose of setting up a compensation fund for victims. It later listed $400,000 in net assets, which plaintiffs' attorneys say isn't nearly enough to cover the claims.
A bankruptcy court judge has frozen the assets of the NECC's four owners, so creditors can determine what remains of the millions the owners have received from the company.
Copyright 2020 Associated Press. All rights reserved. This material may not be published, broadcast, rewritten or redistributed.
Was this article valuable?
Here are more articles you may enjoy.