New Hampshire Gov. Maggie Hassan nominated Roger Sevigny to another five-year term as the state's insurance commissioner. The governor formally made the nomination Wednesday at the Executive Council meeting.
The Executive Council now has to decide whether or not to hold a public hearing on the renomination, and then vote at an upcoming meeting. The process could take between two to six weeks, according to the governor's office.
New Hampshire's Executive Council and its five elected members have the authority and responsibility, together with the governor, over the administration of the state's affairs.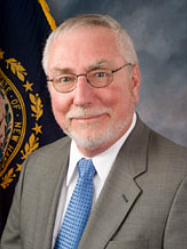 Sevigny has been leading the state's insurance department for nearly a decade. He was first appointed as the state's insurance commissioner in 2003 by then-Governor Craig Benson.
Prior to his appointment as the insurance commissioner he held the position of assistant commissioner. Before joining the insurance department, he worked with Travelers Insurance for more than 30 years, serving in a variety of technical and management positions.
"For nearly a decade, Roger Sevigny has worked to protect consumers and improve the health of New Hampshire's residents by providing appropriate oversight of New Hampshire's insurance market," Gov. Hassan said. "Commissioner Sevigny's continued service will be invaluable as we work to leverage the tools provided by the federal Affordable Care Act to expand health coverage to more families while strengthening our economy and improving the quality of insurance products."
"It is an honor to serve the people of New Hampshire, and I look forward to continue working with Governor Hassan to improve and enhance insurance coverage for all Granite Staters," Commissioner Sevigny said.
Was this article valuable?
Here are more articles you may enjoy.